Swim Spa Health Benefits
Feel rejuvenated with an exercise routine that feels good — physically and mentally.
Working out in the water is not just about swimming. In an H2X Fitness Swim Spa by Master Spas, you can walk, jog, row, or even dance your way to wellness in the relaxing water.
Aquatic exercise offers a low-impact alternative to land-based exercise. It has been proven to reduce fatigue and pressure on joints, reduce blood pressure, and relieve stress.
Effects of Water Buoyancy
The buoyancy of water reduces the effects of gravity and stress on the body. A person who weighs 150 pounds will "weigh" 15 pounds when standing in chest-deep water. For someone who struggles with pain, whether because of a chronic condition or weight, water's buoyancy allows them to move more freely.
H2X Fitness Swim Spas are available in "deep" styles, which have a water depth of 50 inches. The increased depth allows you to maximize the benefits of water's buoyancy.
Water exercise programs can improve:
Aerobic endurance
Strength and muscular endurance
Balance and coordination
Flexibility
Mood
Weight loss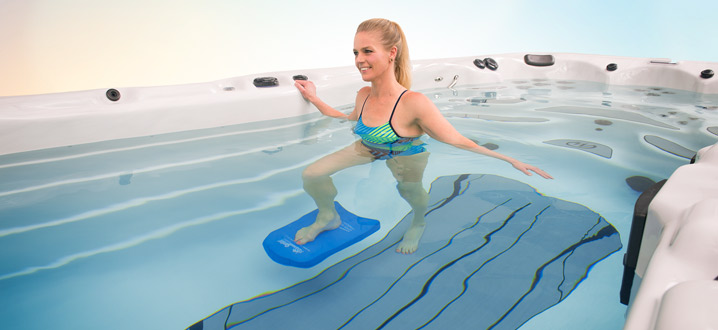 Aquatic Therapy
Aquatic therapy and exercise have also been associated with improved mobility and flexibility and weight-loss resulting in a better quality of life and overall well-being.
Water's natural properties, especially combined with a warmer temperature, have been shown to improve physical and mental health in the long term. While swimmers might prefer a water temperature between 83 degrees and 88 degrees, the ideal temperature for aquatic therapy is 88 degrees to 92 degrees.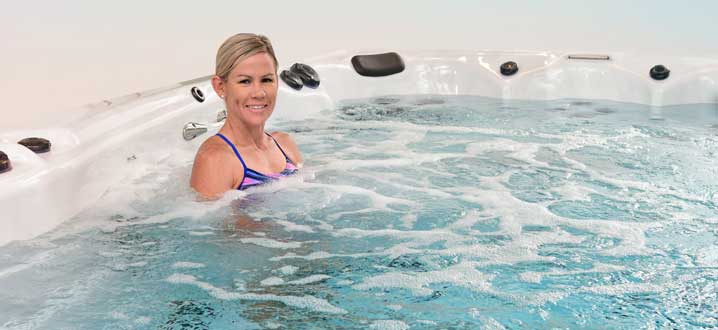 Benefits of Warm Water
People who want to realize the benefits of aquatic therapy might struggle to find a pool warm enough. An H2X Fitness Swim Spa has easy-to-use digital controls so you can set the water to your perfect temperature.
Aquatic therapy benefits include:
Natural resistance for strength training
Improved body awareness
Decreased pain
Warm water-based exercise programs can benefit people with:
Arthritis
Fibromyalgia
Multiple sclerosis
Replacement joints
Low back pain
Diabetes
How to Benefit
With aquatic fitness expert Dr. Rick McAvoy, Master Spas has designed workout programs that will help you reach your health and wellness goals.