Walking In Water
Help Ease the Pain of Arthritis
If you suffer from arthritis, aquatic exercise and therapy could be your solution to improved quality of life.
According to the Arthritis Foundation, about 46 million Americans have been diagnosed with a form of arthritis or related condition. That's nearly one in three people. One way to help combat the effects of arthritis is exercise. Unfortunately, very few people with arthritis get the recommended two and a half hours of aerobic activity per week because of the symptoms that come with arthritis: joint and muscle pain, weakness, fatigue, or joint swelling.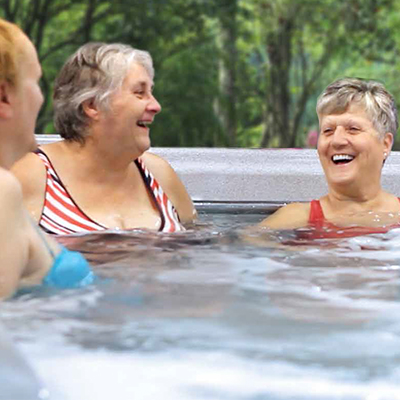 While there's no cure, we do offer hope, with a treatment solution...
If you're struggling with exercise because of arthritis, there's new and very promising research that shows exercising and walking in warm water can offer considerable benefits. Water exercise can help reduce fatigue and pressure on joints, soothe aches, and help with balance. It can also help improve mobility and flexibility, allowing you to experience better quality of life and well-being overall.
We understand that pain, frustration and a fear-of-falling may be keeping you from exploring more exercise options. That's one of the reasons Master Spas has developed H2X Swim Spas. This aquatic exercise tool will help you gain strength, relieve pain, and better your physical condition so you can get back your everyday activities
Providing Hope
When you avoid activities and limit the use of your joints and muscles due to pain, over time, your muscles will weaken and the joints and muscles will lose flexibility (or range of motion). Inactivity also can shorten and tighten muscles, causing you to feel more pain and stiffness, not only keeping you from exercising, but also from every day activities.
With regular exercise you keep joints moving, reduce joint pain, restore and preserve strength and flexibility, and protect joints against further damage. Exercise can also improve your coordination and endurance and improve your ability to perform daily tasks. Exercise increases energy, reduces fatigue, improves sleep, and leads to an improved sense of self-esteem and accomplishment.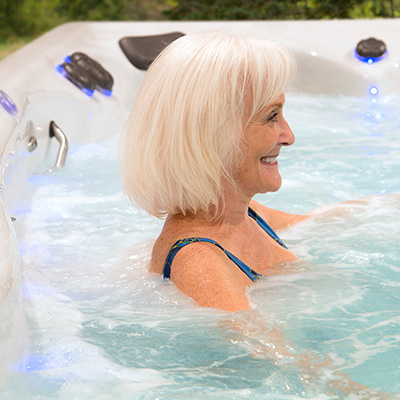 If you have arthritis and are challenged with different land-based exercise programs, consider exploring the benefits of water exercise (also known as aquatic therapy or hydrotherapy).
A groundbreaking 2014 research study published in the Journal of Strength and Conditioning Research by Eadric Bressel, Ph.D., professor and clinical research scientist at Utah State University, found that patients with osteoarthritis (OA) who performed high intensity interval training in the water as their regular physical activity were able to better manage their symptoms.
The landmark study means that the millions of people who suffer with arthritis can enjoy an improved quality of life with less stress and worry often associated with the pain and risk of falling from other types of exercise.
Thanks to aquatic exercise you can have less fear and greater confidence which will help you to attain, and maintain better physical health.
"Having osteoarthritis patients walking against a systematically high and low resistance in water resulted in significant reduction in pain, improved mobility, balance and function," said Dr. Bressel. "This same kind of high intensity interval training on land would be unfathomable because of the load-elicited pain," he added.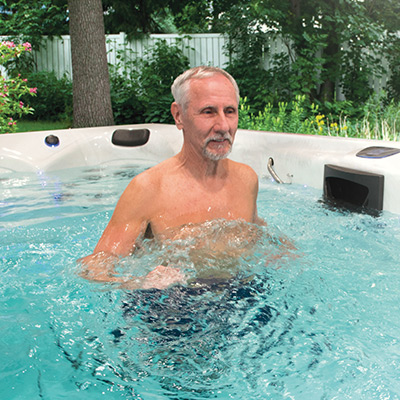 Mobility and balance also improved during the course of the study, with participants able to stand from a seated position more easily, lunge more quickly on one leg, and walk on land with greater speed. In fact, after the completion of the six weeks, participants' gait speed was nearly identical to that of those without osteoarthritis.
Land vs. Water
Exercising and training in water provides an ideal environment, not only for osteoarthritis, but also for more than 100 different kinds of arthritis. By using the natural resistance and buoyancy of water, patients can increase muscle strength and range of motion in a safer environment, perform exercises without the impact forces from land-based treatments, and begin higher level training earlier in their rehabilitation without adding stress to their injury. This is something land-based training cannot successfully offer to help manage symptoms.
Buoyancy counteracts gravity, thereby decreasing the weight placed on painful joints and the spine. In fact, when immersed to neck level, buoyancy supports 90 percent of the body's weight, and in waist-depth water, buoyancy can support 50 percent of your body weight. One of the many advantages of exercising in water is that the diminished weight bearing stress helps aide in strengthening weak muscles and improving balance and confidence.
Exercising in warm water also raises your body temperature, causing blood vessels to dilate and increase circulation in your body. This can ease joint pain and improve flexibility. The soothing temperature and buoyancy of warm water also helps relax tight muscles.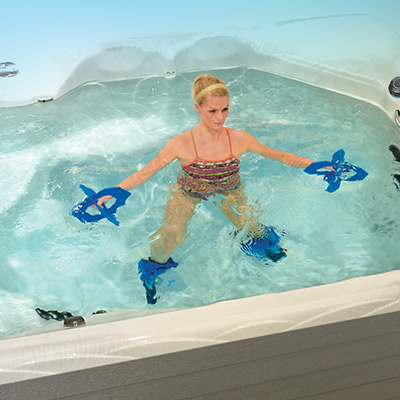 Dr. Rick McAvoy, PT, DPT, CSCS, professor of hydrotherapy, has specialized in aquatic physical therapy for over 25 years and develops water based exercise, therapy, fitness, and training programs.
"Every day in my physical therapy and training practice, I witness the extraordinary power that water has and its ability to perform modern day miracles," said McAvoy. "In the water, I've seen patients change their demeanor because of the relief they experience from their pain."
The Solution
Master Spas is committed to helping you improve your overall physical health and quality of life. If you suffer from arthritis, we have designed specific aquatic exercise protocols to help you achieve your fitness goals. And, with an H2X Swim Spa you can utilize this therapy in the convenience and privacy of your own home, more often and year-round, for better long-term outcomes.
"As a Doctor of Physical Therapy as well as a Certified Strength and Conditioning Specialist who has specialized in Aquatic Therapy for over 25 years, I have treated numerous types of orthopedic and neurological conditions. I have witnessed first hand the power and potential that the water provides in assisting people to improve their physical as well as psychological well-being. Whether your goal is to improve flexibility, balance, coordination, your level of fitness or incorporate aquatic cross training into your existing fitness program, Master Spas swim spas are the perfect aquatic machine."
- Dr. Rick McAvoy PT, DPT, CSCS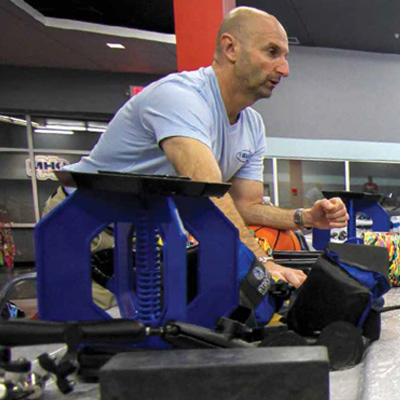 Testimonial
"I am 62 years old, and I suffer from arthritis in my right leg and hip. I experienced pain and cramps when walking, but it was worse when I'd try to climb stairs. It was like I needed to coach each leg up, then the other. Then one day I ran into a friend that I hadn't seen since high school. We found that we had similar struggles, and she told me about the Master Spas Swim Spa. I had heard about the swim spas before, but I thought they were only used for athletic training. I didn't realize that they were also used for someone like me - someone needing an exercise program for arthritis.
In the past, I tried going to the gym, using a treadmill, and doing my stretches, but I was discouraged with the results. I remember starting in the swim spa on a Tuesday. Within two days I could go up stairs! And I mean straight up, only one foot per step! I said to my friend Paul, 'Look at this - its working!' After the third day, I felt incredible!
Exercising in the swim spa is now my normal. Using the swim spa is fun and I not only have relief of my arthritis pain, but I feel stronger and healthier. My clothes are even fitting better!"