Get to Know H2X Fitness Swim Spas
With three unique lines, there is an H2X Fitness Swim Spa that will give you the convenience and motivation to achieve your goals.
Meet Your Match
You want to find the swim spa that is right for your lifestyle, space, and budget. With H2X Fitness Swim Spas, there are three unique lines and 12 models to choose from. The difference lies in the swim jets and performance options.
Challenger Series: Elite performance, airless VIP jets, programmable speed. Challengers are ideal for athletes, and fitness enthusiasts.
Trainer Series: High performance, air-injected VIP jets, adjustable speed. Trainers are ideal for fitness enthusiasts and therapy seekers.
Therapool Series: Fitness oriented, air-injected flow stream jets, dual speed. Therapools are ideal for small spaces and aqua therapy.
Side-by-Side Comparison
| Features | Challenger | Trainer | Therapool |
| --- | --- | --- | --- |
| Ideal for Swimming | | | |
| Ideal for Fitness and Therapy | | | |
| Propulsion System | 6 Airless VIP Jets | 4 Air-Injected VIP Jets | 2-3 Flow Stream Jets |
| Water Current Speed | 25 Speed Levels | Adjustable Speed | Dual Speed |
| Pumps | 3-5 | 2-4 | 2 |
| Models with both a Swim Spa & Hot Tub | | | — |
| Xtreme Therapy Cove | | | — |
| Master Blaster® Foot Massage Therapy* | | | — |
| Jetted Hydrotherapy Seats | | | |
| StressRelief Neck and Shoulder Seat™* | | | |
| Master Force™ Bio-Magnetic Therapy System* | | | |
| EcoPur® Charge Filtration | | | |
| Ozone System | | | |
| Stainless Steel Jets | | | |
| Water Features | | | |
| LED Lighting | | | |
| H2Xercise Fitness System | | | |
*On select models
Challenger Swim Spas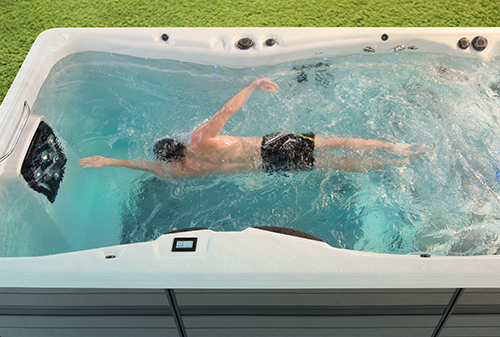 The Challenger bridges the gap between fitness and performance, so you can take your training to the next level. Challenger models feature an innovative jet system that does not introduce air into the water stream. With airless VIP Technology and six strategically placed jets, the system creates a smooth, wide current of water that can challenge a novice or elite swimmer with the press of a button. Plus, experience the hydrotherapy and relaxation you want and need.
Aquaspeed VSP™
The AquaSpeed VSP touchscreen display features easyto- use controls that allow you to set the speed of the current and program a workout. With 25 speed settings, you can dial in your pace for endurance efforts or vary it to benefit from interval training.
For International Challenger swim spas, the VSP system is currently not available. Instead, 3 high flow pumps create a strong, deep, and wide water current from a combination of 7 available speeds.
Who will love it: Athletes and fitness enthusiasts
Trainer Swim Spas
H2X Fitness Trainers deliver a swimming and exercise experience superior to traditional air-injected jetted swim spas. Combining science and engineering, the VIP Technology creates a more efficient flow of water to swim, run, or walk against. Hydrotherapy and relaxation are builtin, with the Xtreme Therapy Cove, massaging jets, and ability to adjust water temperature to your comfort level.
Who will love it: Fitness enthusiasts and therapy seekers
Therapool Swim Spas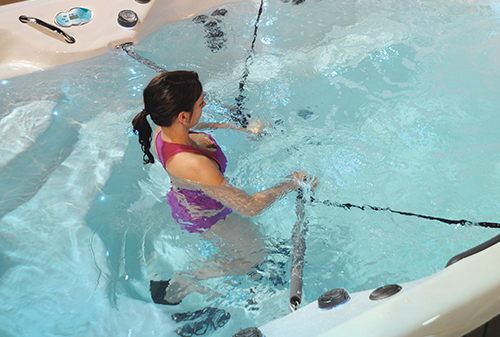 Ideal for fitness and exercise, H2X Fitness Therapool models help you get active and stay active. Therapool models feature up to three flow stream jets that complement the natural resistance of water so you get the most out of your workout. Hydrotherapy and relaxation are built-in, with the contoured seating, massaging jets, and ability to adjust the water temperature up to a soothing 99 degrees.
Who will love it: Fitness and therapy seekers