Challenger 18 D PRO Swim Spa
Elite Performance, Airless VIP, Programmable Speed
Challenger 18 Deep Pro
is rated out of
5
by
2
.
With the all new Challenger Pro, athletes and swimmers can train at a high level in the convenience of their home. This 18-foot swim spa features three dedicated swim pumps including two variable speed motors so even the best swimmers can set the pace. Designed for optimum performance, the Challenger Pro allows for a strong, current with even better visibility. Therapy seating and temperature controls allow for recovery and relaxation.
Dimensions
215" x 94" x 60"
(547 cm x 239 cm x 153 cm)
H2X Fitness Swim Spa

Challenger 18 D PRO
| | |
| --- | --- |
| Dimensions | 215" x 94" x 60" (547 cm x 239 cm x 153 cm) |
| Water Capacity | 2,080 (7,874 L) |
| Weight (Dry/Full) | 2,840 lbs (1,288 kg) / 21,115 lbs (9,578 kg) |
| Propulsion System | Airless VIP Technology |
| Power Requirement | 80 Amp System |
| Pumps | 4 |
| Circ Pumps | 1 |
| Stainless Steel Jets | 45 (Incl. 6 Airless VIP Jets) |
| Water Features | 5 |
| Ozone System | Standard |
| Filtration | EcoPur® Charge |
| LED Lighting | Waterline |
| Listing Number | 9946 |
VIP Technology
The unique design of the plate helps to control turbulence and the flow of water.
Learn More
AquaSpeed VSP™ *
With 25 speed settings, you can turn up the tempo for an interval workout or dial it in for endurance efforts.
Learn More
Hydrotherapy
Contoured therapy seats and adjustable massage jets help you find relief from muscle aches and achieve peace of mind.
Learn More
Xtreme Therapy Cove
The Xtreme Therapy Covers features a unique jet pattern that targets back, hips, thighs, and calves. Use as a recovery tool or enjoy a therapeutic massage.
Learn More
EcoPur® Charge
The clean, clear water you want without the harsh chemicals you don't. EcoPur Charge uses minerals like copper and zinc to purify water and remove dirt, bacteria, and algae.
Learn More
StressRelief Neck & Shoulder Seat
Relieve tension and pain in your neck and shoulders with the StressRelief Neck and Shoulder Seat. The unique out-of-water jets target this high-tension area.
Learn More
Bio-Magnetic Therapy System
The Master Force Bio-Magnetic Therapy System features strategically placed magnets to relieve inflammation, improve circulation, and boost nervous system responses.
Learn More
Mast3rPur
The Mast3rPur™ Water Management System reduces the amount of chemicals, like chlorine, that you need to use and keeps your spa water clean naturally.
Learn More
H2Xercise ™ Fitness System
Water exercise is a great way to work toward your fitness goals. Most H2X swim spas come with the H2Xercise Fitness System, which includes rowing bars and resistance tubing.
Learn More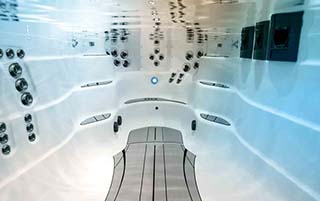 Nonslip, Comfort Floor System
The Nonslip, Comfort Floor System offers safety and comfort with the unique combination of traction and cushion. **
Learn More
*For Challenger swim spas sold outside of the United States and Canada, the VSP system is currently not available. Instead, 3 high flow pumps create a strong, deep, and wide water current from a combination of 7 available speeds.
** Due to continued supply chain issues with the Nonslip, Comfort Floor System, the photos depicted of this feature may not accurately show the look and design of the material available at the time of manufacturing your swim spa order. While we are doing everything we can to secure the original designed material, any differences are cosmetic only.
10 YEARS - Spa Structure
7 YEARS - Shell Surface
5 YEARS - Equipment
5 YEARS - Plumbing
5 YEARS - Jets
3 YEARS - Nonslip, Comfort Floor System
Lifetime - Skirting: Duramaster Polymer™
1 YEAR - LED Light System*
1 YEAR - Mast3rPur System*
1 YEAR - Audio Equipment*