Trainer 19 D Swim Spa
High Performance, Air-injected VIP, Adjustable Speed
Trainer 19 Deep
is rated out of
5
by
32
.
TWO BODIES OF WATER, TWO DIFFERENT TEMPERATURES Enjoy a swim and the full-body effects of aquatic exercise with water set to a personal comfort zone in the 80s. On the other side, settle into the hot tub with the temperature set up to 99°. This full-size hydrotherapy hot tub has 31 jets, ergonomic seating, and was designed to give your mind, body, and spirit a thorough rejuvenation. Say good-bye to the tensions, aches, and stresses of the day. The Trainer 19 D is more than a sensation; it's your solution.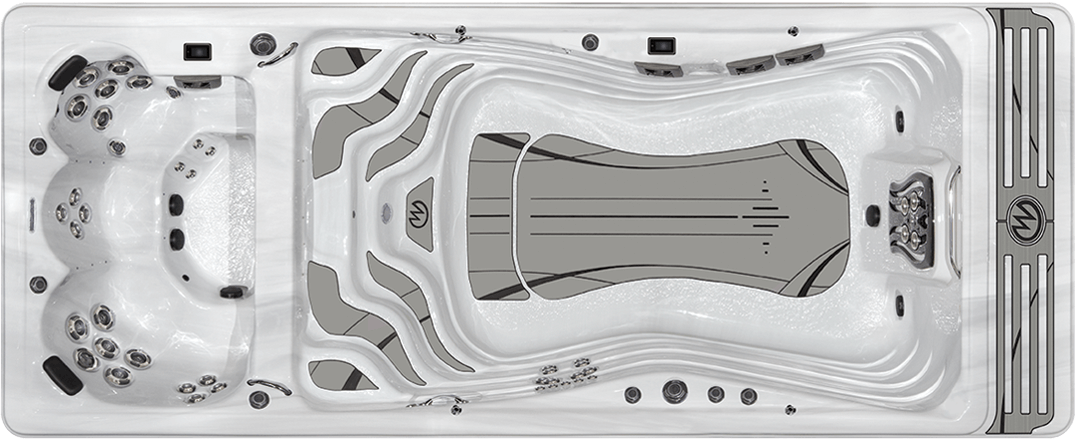 Trainer 19 D
Specifications

Dimensions
231" x 94" x 60"
(587cm x 239cm x 153cm)
Water Capacity
2,285 Gallons (10,388 L)
Weight Dry/Full
3,215 lbs. (1,458 kg)
23,570 lbs. (10,691) kg)
Propulsion System
Air-Injected VIP Technology
Power Requirement
100 Amp System
Pumps
4
Stainless Steel Jets
48 (Incl. 4 VIP Jets, and 1 Master Blaster®)
Water Features
5
Ozone System
Standard
Filtration
EcoPur® Charge
LED Lighting
Waterline
Listing Number
1270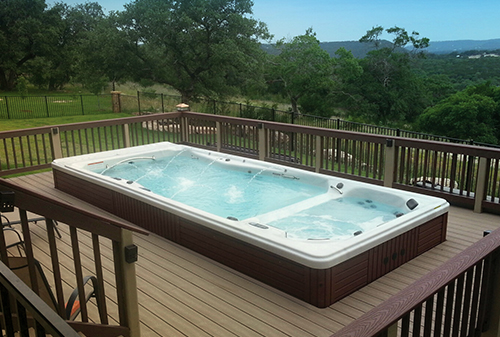 Trainer 19 D
Standard Features
H2X Fitness Swim Spas are built with premium features that come standard for the best in exercise and relaxation.
See What Our Customers Are Saying
"The swim spa is wonderful. I love being able to go from the hot tub to the swim spa in an instance. Having the two areas at different temps is great. "
- V. Griffi, Nebraska
"From the first time I entered the water, I was able to swim like I would in a pool ... but no turning! The lights, the water features, the massage jets all add up to an amazing experience. I swim before I go to work and it is so convenient, clean and hassle free. After a swim, I get into the hot tub. Totally luxurious!"
- Leisa, Abbotsford, BC
At Master Spas, we make buying a swim spa just as relaxing as owning one.
See a swim spa, select the perfect size.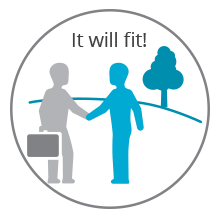 We can do this with a photo & dimensions or by visiting your backyard.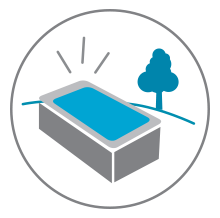 When you're ready, installation can take less than a day.
Rated

5

out of

5
by
Jtocher59
from
Great Exercise
Love the swim spa, its easy on my arthritic joints
Date published: 2020-07-15
Rated

4

out of

5
by
None
from
My Swim Spa is great
This swim spa is great and I recommend it for relaxing and swimming
Date published: 2019-12-18
Rated

4

out of

5
by
Hope23
from
Wonderful in many ways
Our swim spa was delivered about 6 weeks ago and we've been swimming in it practically everyday since we got it up and running. We love all the features and it's really pretty lit up at night. Our dealer was very helpful in getting the chemicals balanced and the chemicals have been easy to take care of since then. In another week we'll need to do our first filter cleaning and I'm a little concerned about how that's going to go. But again, our dealer has been very informative so I feel like I know how to do it when the time comes. Quirky things about our swim spa: Sometimes the therapy jets fall out and have to be put back in. This has happened to us multiple times and sometimes they're difficult to get back in. And the lights can't seem to be turned on from the pool side even though it's on the control panel. We don't always open the hot tub side so we can't always turn the lights on when it's getting dark. My only compliant is the cover. It's big and hard to handle by yourself. We were told they don't make cover lifters for the 19, so we're stuck doing it by hand, which is a 2 person job.
Date published: 2019-08-25
Rated

5

out of

5
by
Bigred
from
Best of both worlds!
How do you find a pool that can stay open in the winter? Buy a Master Spas H2X 19D! The hot tub is the bonus! It's the perfect unit for a new backyard!
Date published: 2019-06-09
Rated

3

out of

5
by
ronnie
from
The cover is to hard to open
The swim spa is fine and easy to operate. However The lid for the spa is bulky and even with the hydraulic package I purchased for an additional cost it still takes 2 people to open it while standing on ladders . That is not what I was told when I bought it. Also I was sold exercise equipment and never received it
Date published: 2019-05-09
Rated

4

out of

5
by
Tracy123
from
I wish I could get in every day.
THe only complaint I have is that the sticker pads were not completely adhered to the spa surface. Even if we drained the spa I wouldn't know how to fix that.
Date published: 2019-01-09
Rated

4

out of

5
by
Captain
from
We love this spa, but. . .
We have been so happy with the spa, but wish it had more instruction on how to maintain it. It's been harder than we were told and we didn't receive a majority of the items and education we were promised when we spent the $30,000 on it. We still use it every single day and it's been great with my arthritis. I just hate being lied to.
Date published: 2018-11-15
Rated

5

out of

5
by
Miss M
from
Excellent choice!
The perfect combination! Separate hot tub and swim spa! The only negative is the weight of the cover. We strength train and it is not the easiest to open, especially being the deep model. But we love the spa and use it daily!
Date published: 2018-10-20
Rated

3

out of

5
by
Superiorgrandma
from
Concerned as we have small problems with the spa
I love the pool and the spa but the major issue is the covers. The ones that came with it do not work. The covers are too heavy and the hinging apparatus will not work and hold them in place. We are waiting now for a roll cover to see if that will work well. I need something I can do my self and not call a man everytime I want to use. Other problems is lights not work, handles blowing off when turning on jets, soft tread not glued on well. Also I was confused about the chemical. I thought there would be a place to add that would automatically add as needed. I did not think I would be throwing Chlorine and other chemical from side every morning. Be ready to replace a lot of damaged tops from chlorine.
Date published: 2018-08-13
Rated

4

out of

5
by
Swim
from
Swim Spa 19 Deep
My swim spa was delivered on 5/30/18, and bumps and hiccups happened all the way. The main issue is the cover. The brackets on one side broke, and were replaced, however the other side is about to break. Keep in the mind the brackets broke on the first day of use, on a clear sunny day. Spending a lot of money, you should not have to rig and make supports for the cover, but we did.
Date published: 2018-07-29
Rated

5

out of

5
by
Leed1ca
from
Great combination of swimming and hottub all in on
Spa caters to all our faimly needs. Included with the spa is all the fitness equipment which is great addition
Date published: 2017-08-24
Rated

5

out of

5
by
Hamlet
from
Have not had a chance to use it.
But I love the attention by East Coast Spas the are very helpful and go that extra mile for you. Hope that Spa is as good as them
Date published: 2017-08-05
Rated

2

out of

5
by
Not happy
from
I have had trouble with the swim spa ever since i
Several issues with alarms pump is dry or no flow pump has been changed out and still the same issue vendor recommends pulling the filters and running like that still the alarms appear
Date published: 2017-08-02
Rated

1

out of

5
by
JackMcM
from
Make sure you buy from a LOCAL
There are issues. Make sure you buy from a local. There is only limited support companies to fix this pool. I would not buy another master spa!
Date published: 2017-07-01
Rated

1

out of

5
by
Orlando
from
Horrible
We bought the Spa on January. We haven't been able to use it since we bought it and today is June 10. One of your dealers, Hot tubs Inc, doesn't even want to respond to the letters from the Attorney General with our complaint
Date published: 2017-06-10
Rated

5

out of

5
by
Rolando
from
I not only Love My Spa I need it!!!
As my title refers I am a 100 % disabled Veteran and since i started using the spa I am more flexible and mobile and with that comes attitude. When I feel better everyone around me is happier. No way I could do the things i do today without using this wonderful product.
Date published: 2017-05-09
Rated

5

out of

5
by
vkgriffi
from
Great purchase
The swim spa is wonderful. I love being able to go from the hot tub to the swim spa in an instance. Having the two areas at different temps is great. I love the lights. It gives it a great feel at night. We put our swim spa indoors and in ground. We added a pool rail to help us get in and out. The only downside is that it takes more maintenance than I thought.
Date published: 2017-01-31
Rated

4

out of

5
by
abowds
from
Far More Use Than a Pool
We recently built a new custom home and were faced with the challenge of having a small backyard but wanted both a pool and hottub. We discovered the Swimspa solution and immediately noticed the benefits over and above owning both separately. Most notably, being able to use it all-year. The quality is on par for the money we spent and it has already become a tradition of having family over for a Christmas swim.
Date published: 2017-01-27
Rated

4

out of

5
by
Stephanie
from
Nice pool, but came with literally no instructions
I bought this pool because I need hydrotherapy/exercise for my multiple sclerosis. It's going to work fine. But cleaning the filters is real work, work I wasn't expecting. My installer was from out of town and gave me minimal instructions on how to work the pool. I'm having trouble keeping my chemicals in line. I'm working without a net. I wish there were more instructional videos on how the pool works, and maintenance videos. I selected master spas because I wanted a deep pool.
Date published: 2017-01-18
Rated

2

out of

5
by
Myron
from
Union broke and wet all components warranty needed
Union cracked and water wet all components and now where having issues on replacing pars.
Date published: 2017-01-17
Rated

5

out of

5
by
Korinne
from
Water aerobics and therapy!
Once it was finally set up right I love it!! I've been using it almost daily for about 2 weeks. The Bluetooth speakers are amazing and I end up rocking out dancing in the water most nights and throw in spurts of stretching, swimming, and weight movements then hit up the spa side to relax for bed. The aquatics workout kit that they send you when you send in the warranty info is really fun! I've come up with creative ways to get a great Ab workout with the swim tether! I've already lost weight and my abs are starting to show. Plus my back feels better! I just had back surgery 3 months ago and needed a low impact workout and a way to strengthen my core...plus the jets help massage my back with the high heat. I'm definitely motivated to workout no it's been super fun! Not like your typical boring mat workouts. I highly recommend the split swim/spa if you can afford the price difference. I like having the swim side at a lower temp and I think in the summer this will be even more important. The seadeck is critical also for working out or else you will slip. I would definitely get the deep model for working out! Bluetooth is a must! Things to note, the swim and spa computers don't talk to each other so if you get wifi or Bluetooth it's for the spa only...no changing the volume or song while you are in the swim side and you can only monitor or change temp on the app in spa. Also double check you recieved NEW filters! My spa started popping error codes after week one even after cleaning filters nearly every day...I ordered a new filter and when I compared the new one to the one in it it was faded and worn with holes in the plastic casing even! Make sure you account for the extra length of the cover arms when building the concrete pad and also don't forget the cover is about 4 inches tall, which we didn't account for and my spa sticks up higher than I wanted and is blocking my view when I'm on my patio. (I had it partially sunk on a hill). lastly the chemicals are costly and you will need to commit to cleaning filters and testing and adding chemicals once a week forever, the owner's manual doesn't suggest leaving it empty. Also if you are using it for medical reasons like me for my back surgery ask your tax accountant about tax writeoffs...
Date published: 2016-12-28
Rated

4

out of

5
by
Bjohn
from
Greatly enjoy it!
Maintenance isnt as easy as i had hoped , but really enjoy walking and exercising in spa.
Date published: 2016-10-28
Rated

4

out of

5
by
Lena
from
Love the Spa/ unhappy with No follow up after purc
The Spa is exactly what i wanted. But the jet controlls have already had to be replaced 2 at first start up, and now another
Date published: 2016-10-28
Rated

5

out of

5
by
Victor
from
We love our swimspa!
My wife was diagnosed with, and beat, breast cancer last year. Her doctor recommended therapy for recovery. Our Masterspa Trainer 19D has been phenomenal for her recovery. Her physical therapist
Date published: 2016-10-18