Hydrotherapy
Life can be busy but it should not get in the way of taking time for yourself. H2X Fitness Swim Spas provide a calming retreat where you can find relief from muscle aches and achieve peace of mind. Experience the best of hydrotherapy with adjustable temperature controls and thoughtful jet placement.
See What Our Customers Are Saying
"This spa is a delightful escape from the real world. I live to spend long periods of time exercising, stretching, soaking or just thinking in my spa. In the morning, I have my first cup of coffee in my spa. I wake up and listen to the birds, watch the sun come up over the fence and see the sky come alive."
— Mel1413, Corning, CA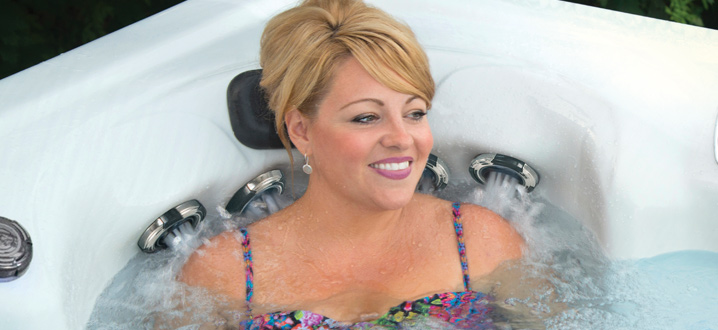 StressRelief Neck and Shoulder Seat™
Relax into the StressRelief Neck and Shoulder Seat™, available on select models. Specially designed out-of-water jets deliver a tension-relieving massage where it's needed most, across the neck and shoulders.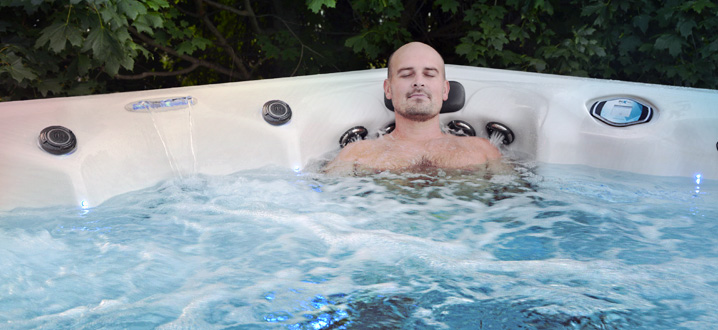 Xtreme Therapy Cove
The jets of the Xtreme Therapy Cove deliver a complete therapeutic massage for your lower back, hips, thighs, and calves. The warm water also improves circulation, delivering nutrients and oxygen to tired muscles.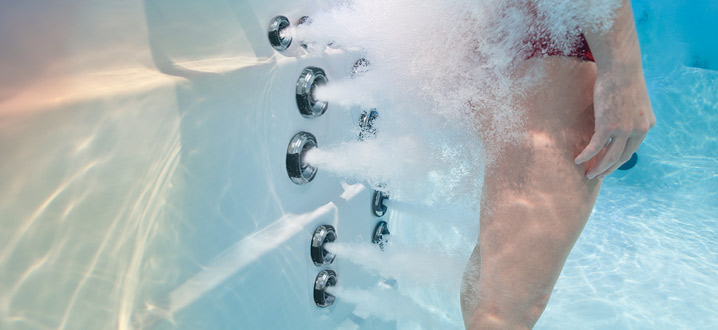 Magnetic Therapy
Our exclusive, patented Master Force™ Bio-Magnetic Therapy System offers the benefits of magnetic therapy in the comfort of an H2X Fitness Swim Spa.
Magnetic therapy has been used for centuries to help relieve pain, improve circulation, reduce swelling, and alleviate stiffness. Today, more and more doctors and physical therapists are using magnetic therapy for the treatmentof back problems, arthritis and sports injuries. That's why Master Spas, after extensive research and development, chose to combine the proven benefits of hydrotherapy with the pain-relieving comfort of bio-magnetic therapy. Powerful magnets are placed behind the StressRelief Neck and Shoulder Seat™ to provide relief to your pressure points.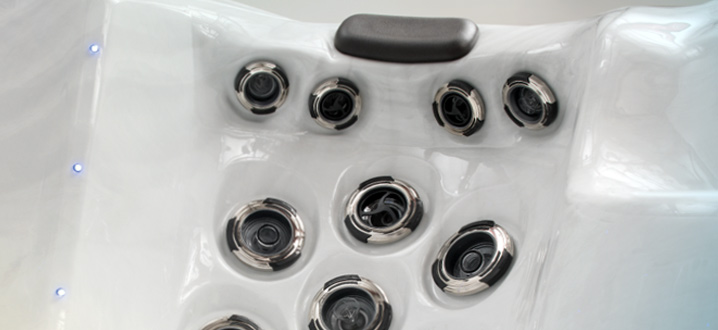 Master Blaster Foot Massage®
Rejuvenate your aching feet
Our Master Blaster® Foot Therapy System* uses a cluster of jets to rejuvenate your body through an encompassing foot massage. This unique form of reflexology is bolstered by scientific studies into the health benefits of foot massage. Our Master Blaster® Foot Therapy System is powered by a separate oversized pump, generating 200 gallons per minute of powerful yet soothing foot relief.
*Available on 19-foot models