Trainer 19 D Swim Spa
High Performance, Air-injected VIP, Adjustable Speed
Trainer 19 Deep
is rated out of
5
by
30
.
TWO BODIES OF WATER, TWO DIFFERENT TEMPERATURES Enjoy a swim and the full-body effects of aquatic exercise with water set to a personal comfort zone in the 80s. On the other side, settle into the hot tub with the temperature set up to 104°. This full-size hydrotherapy hot tub has 31 jets, ergonomic seating, and was designed to give your mind, body, and spirit a thorough rejuvenation. Say good-bye to the tensions, aches, and stresses of the day. The Trainer 19 D is more than a sensation; it's your solution.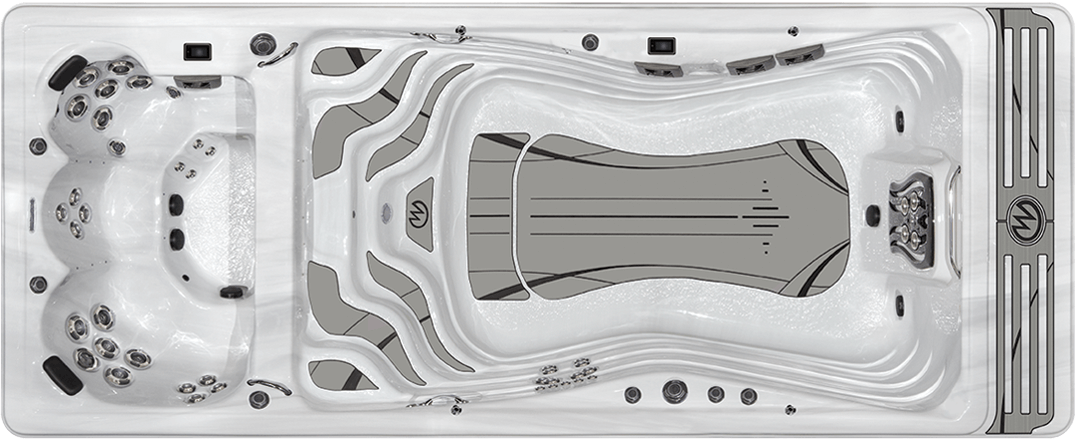 Trainer 19 D
Specifications

Dimensions
231" x 94" x 60"
(587cm x 239cm x 153cm)
Water Capacity
2,285 Gallons (10,388 L)
Weight Dry/Full
3,215 lbs. (1,458 kg)
23,570 lbs. (10,691) kg)
Propulsion System
Air-Injected VIP Technology
Power Requirement
100 Amp System
Pumps
4
Stainless Steel Jets
48 (Incl. 4 VIP Jets, and 1 Master Blaster®)
Water Features
5
Ozone System
Standard
Filtration
EcoPur® Charge
LED Lighting
Waterline
Listing Number
1270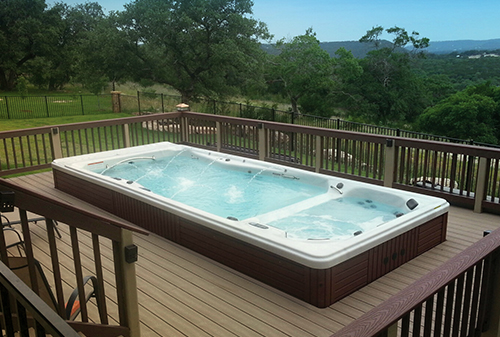 Trainer 19 D
Standard Features
H2X Fitness Swim Spas are built with premium features that come standard for the best in exercise and relaxation.
Premium Features
Upgrade your swim spa experience with optional packages that will complement your landscape and lifestyle.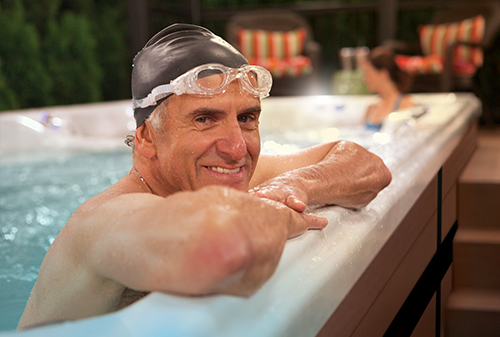 See What Our Customers Are Saying
"The swim spa is wonderful. I love being able to go from the hot tub to the swim spa in an instance. Having the two areas at different temps is great. "
- V. Griffi, Nebraska
"From the first time I entered the water, I was able to swim like I would in a pool ... but no turning! The lights, the water features, the massage jets all add up to an amazing experience. I swim before I go to work and it is so convenient, clean and hassle free. After a swim, I get into the hot tub. Totally luxurious!"
- Leisa, Abbotsford, BC
At Master Spas, we make buying a swim spa just as relaxing as owning one.
See a swim spa, select the perfect size.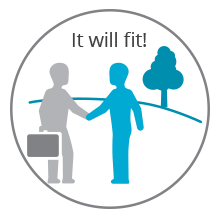 We can do this with a photo & dimensions or by visiting your backyard.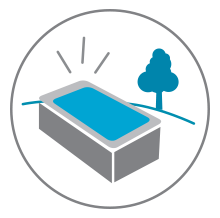 When you're ready, installation can take less than a day.
Rated

4

out of

5
by
Stephanie
from
Nice pool, but came with literally no instructions
I bought this pool because I need hydrotherapy/exercise for my multiple sclerosis. It's going to work fine. But cleaning the filters is real work, work I wasn't expecting. My installer was from out of town and gave me minimal instructions on how to work the pool. I'm having trouble keeping my chemicals in line. I'm working without a net. I wish there were more instructional videos on how the pool works, and maintenance videos. I selected master spas because I wanted a deep pool.
Date published: 2017-01-18
Rated

3

out of

5
by
Superiorgrandma
from
Concerned as we have small problems with the spa
I love the pool and the spa but the major issue is the covers. The ones that came with it do not work. The covers are too heavy and the hinging apparatus will not work and hold them in place. We are waiting now for a roll cover to see if that will work well. I need something I can do my self and not call a man everytime I want to use. Other problems is lights not work, handles blowing off when turning on jets, soft tread not glued on well. Also I was confused about the chemical. I thought there would be a place to add that would automatically add as needed. I did not think I would be throwing Chlorine and other chemical from side every morning. Be ready to replace a lot of damaged tops from chlorine.
Date published: 2018-08-13
Rated

1

out of

5
by
JackMcM
from
Make sure you buy from a LOCAL
There are issues. Make sure you buy from a local. There is only limited support companies to fix this pool. I would not buy another master spa!
Date published: 2017-07-01
Rated

5

out of

5
by
Victor
from
We love our swimspa!
My wife was diagnosed with, and beat, breast cancer last year. Her doctor recommended therapy for recovery. Our Masterspa Trainer 19D has been phenomenal for her recovery. Her physical therapist
Date published: 2016-10-18
Rated

4

out of

5
by
Swim
from
Swim Spa 19 Deep
My swim spa was delivered on 5/30/18, and bumps and hiccups happened all the way. The main issue is the cover. The brackets on one side broke, and were replaced, however the other side is about to break. Keep in the mind the brackets broke on the first day of use, on a clear sunny day. Spending a lot of money, you should not have to rig and make supports for the cover, but we did.
Date published: 2018-07-29
Rated

4

out of

5
by
Bjohn
from
Greatly enjoy it!
Maintenance isnt as easy as i had hoped , but really enjoy walking and exercising in spa.
Date published: 2016-10-28
Rated

5

out of

5
by
vkgriffi
from
Great purchase
The swim spa is wonderful. I love being able to go from the hot tub to the swim spa in an instance. Having the two areas at different temps is great. I love the lights. It gives it a great feel at night. We put our swim spa indoors and in ground. We added a pool rail to help us get in and out. The only downside is that it takes more maintenance than I thought.
Date published: 2017-01-31
Rated

2

out of

5
by
Not happy
from
I have had trouble with the swim spa ever since i
Several issues with alarms pump is dry or no flow pump has been changed out and still the same issue vendor recommends pulling the filters and running like that still the alarms appear
Date published: 2017-08-02