Mirinda Carfrae, IRONMAN® Triathlete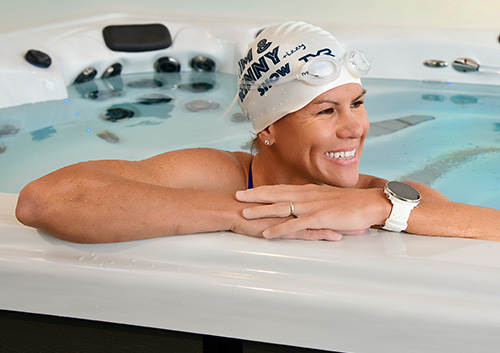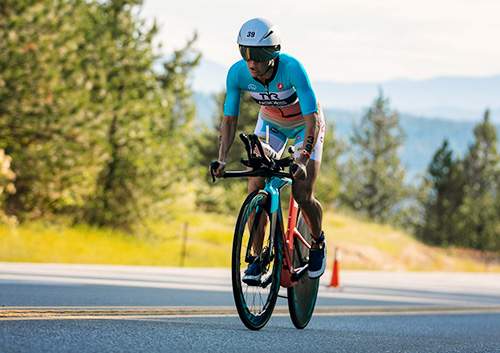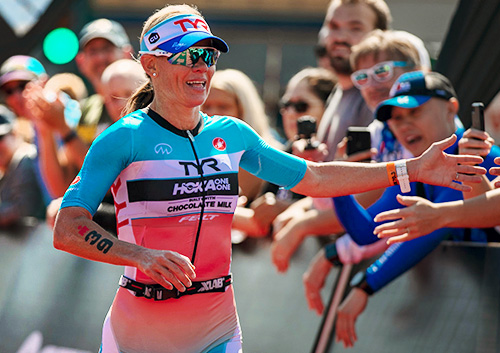 Three-Time World Champion Balances Competition and Family
Meet Mirinda Carfrae, a Colorado-based triathlete who is known for blazing speed on the run course. Mirinda, or Rinny as she's known made the 2001 Australian Junior Elite Team and hasn't looked back since. She's taken the win three times at the IRONMAN World Championships in Kona. She trains in Boulder, Colorado, where she lives with husband Tim O'Donnell and daughter Izzy.
Best of the Best
Carfrae will return to the Big Island of Hawaii on Oct. 12, where she will test herself "in those amazing epic conditions against the best female triathletes in the world."
For Carfrae, as it is for many triathletes, the IRONMAN World Championships in Kailua-Kona is the most important race of the year. Not only will it be about trying to be the best in the field but the opportunity to be her best self.
"The reason Kona is important to me because it's a chance for me to see how good I can be. It's a chance for me to see what my body is capable of doing on the Big Island on the second Saturday in October."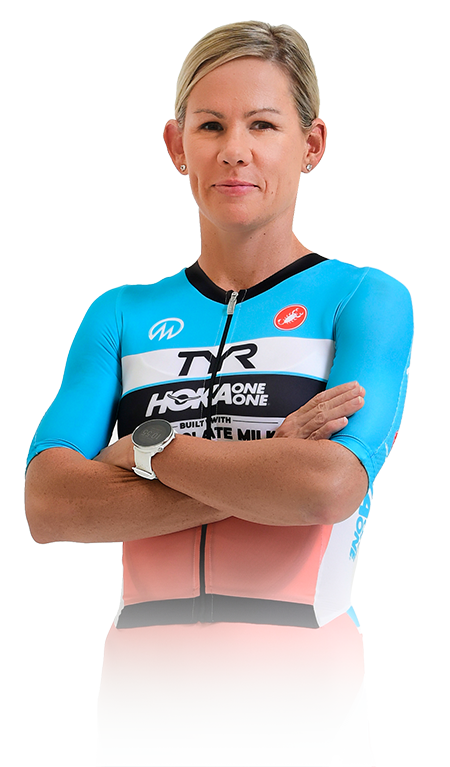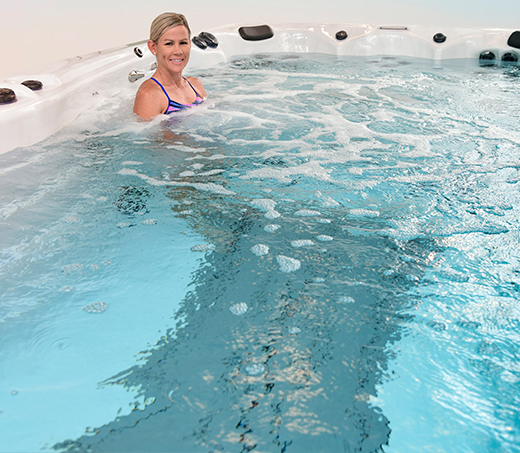 Finding Balance
Life in the Carfrae-O'Donnell house is filled with lots of swimming, cycling, running, and running after 2-year-old Izzy.
While the family has a nanny to help care for Izzy while they are training, Carfrae is like many working moms. She still has to get groceries, make dinner, and answer emails.
Carfrae will be able to save time and energy with an H2X Challenger Swim Spa by Master Spas, helping her to achieve more work-life balance.
"Balance is really important to me and to my family. Being a professional triathlete takes a lot of hours in the day, and it can be all-consuming. We try to make sure we take time away from the sport and take downtime."
Win Your Day
"Winning my day is about having a good schedule, a good plan, and making sure I'm efficient with my time. I love to spend as much time as possible withmy daughter and husband."
Training with an H2X Swim Spa
The swim portion of a triathlon can be the most intimidating for athletes. Swimming is a technique-heavy sport, and open-water conditions are filled with unknowns.
A swim spa by Master Spas complements triathlon training, offering a continuous swimming experience that mimics open water. And, as Carfrae says, that's what triathletes are training for.
"Swimming in a pool is fantastic because you can get in a really good workout, know how far you are going, and you know how fast you are going. But having the opportunity to swim in a swim spa and swimming continuously, it's completely different," Carfrae says. "When you kick off in a pool, it gives you a short rest and changes your stroke a little bit. A swim spa gives you the opportunity to swim continuously, which is way more similar to what we would be doing in race."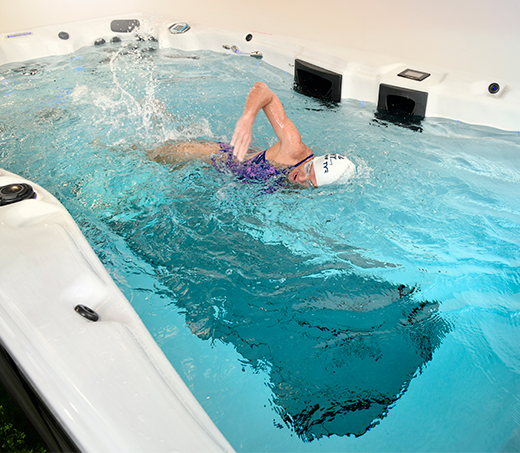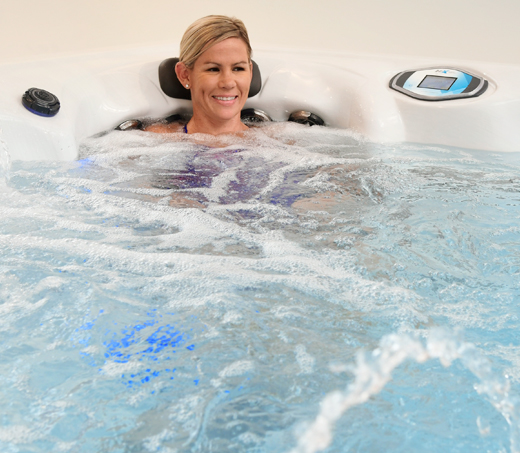 Recovery Session
"Recovery is almost the most important part of being a professional athlete. You can only train as hard as you can recover," Carfrae says. "The athlete that can recover quicker, can recover better, can essentially complete more quality sessions."
At the end of the season, those quality sessions add up and can lead to a better performance on race day.
Carfrae has easy swims built-in to her schedule, typically after a challenging run. An H2X Challenger swim spa is idea for those 30-minute sessions because she can do the immediately following a run.
"Having a daughter now, I'm less likely to drive to the pool to do a 30-minute easy swim," says Carfrae. Being able to jump in the swim spa in my backyardand do an easy swim, I think that's really going to enhance my recovery and get more quality sessions throughout the week."
About the H2X Challenger Swim Spa Series
Mirinda Carfrae will soon be training with a Challenger 15D swim spa, which is an part of the H2X Fitness Swim Spa line by Master Spas.
Airless VIP Jet System
AquaSpeed VSP (25 speed levels)*
Xtreme Therapy Cove
Jetted Hydrotherapy Seats
H2Xercise Fitness System
Year-round Use
For International Challenger swim spas, the VSP system is currently not available. Instead, 3 high flow pumps create a strong, deep, and wide water current from a combination of 7 available speeds.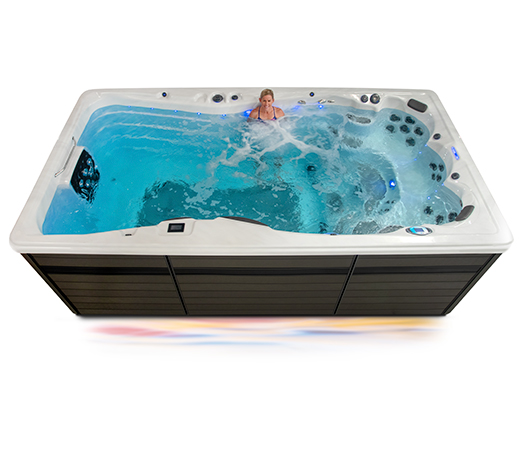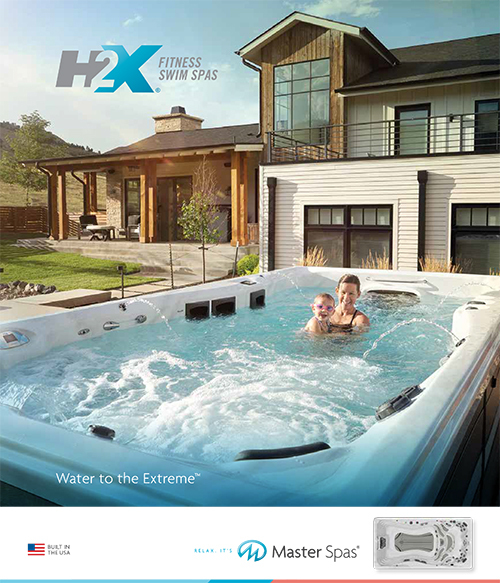 H2X Fitness Swim Spa
At Master Spas, we want you to enjoy making fitness and wellness a priority. Whether you are a novice or a world-class athlete, it takes more than desire to balance workouts with life's demands. It takes commitment. Our swim spas are designed to make training and recovery convenient, just steps away in your backyard.
At Master Spas, we make buying a swim spa just as relaxing as owning one.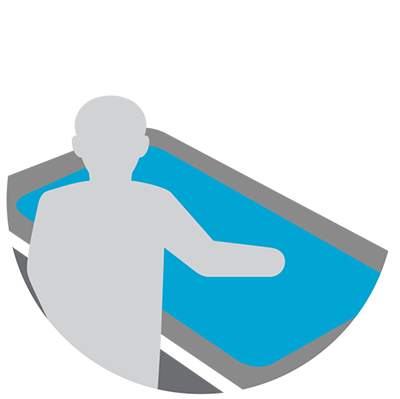 See a swim spa, select the perfect size.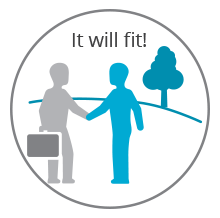 We can do this with a photo & dimensions or by visiting your backyard.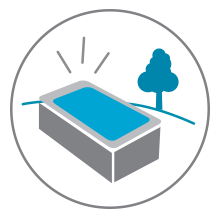 When you're ready, installation can take less than a day.