Pool Alternative
A backyard pool can seem like a homeowner's dream but it is no small investment. An in-ground pool installation can require a large backyard, costly excavation, and time-consuming maintenance.
An H2X Fitness Swim Spa combines the benefits of swimming, water exercise, and hydrotherapy with the enjoyment of a swimming pool. But unlike an in-ground pool, an H2X Fitness Swim Spa can be installed in a day and used year-round.
Benefits of owning an H2X Fitness Swim Spa:
Compare the differences between a swim spa and an inground pool and discover why an H2X Fitness Swim Spas model is ideal pool alternative for your backyard space.
Installation
Pool: An in-ground pool installation requires building permits, a contractor, and up to eight weeks.
H2X Fitness Swim Spa: Once your space is ready, an H2X Fitness Swim Spa can be delivered and installed in less than a day. All that's required is a solid, level surface that can handle the weight of the portable swim spa with water.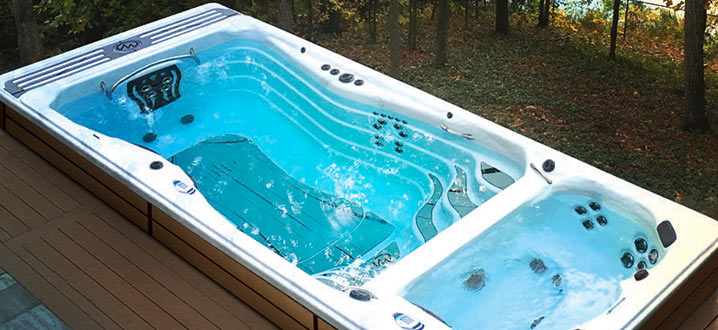 Size
Pool: A standard inground pool is twice as long as it is wide —so 10 x 20 feet or 15 x 30 feet. But a fiberglass pool or lap pool will require additional patio space, clearance, and fencing (depending on local rules).
H2X Fitness Swim Spa: There are 13 models in a variety of sizes, from 11 feet in length to 19 feet, giving homeowners with smaller yards a pool option.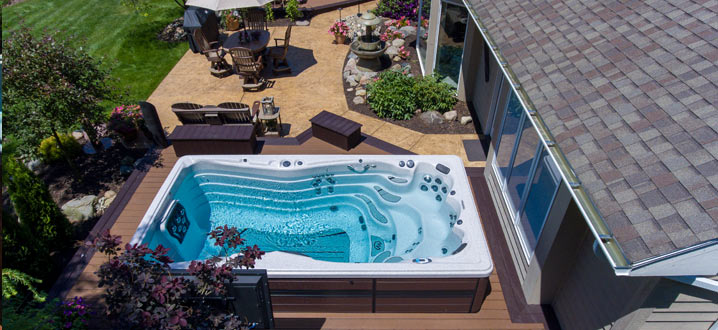 Year-Round Use
Pool: For most climates, an in-ground pool can be used only a few months of the year. The seasonal use of a backyard pool also requires time-consuming and, sometimes, costly opening and closing.
H2X Fitness Swim Spa: Master Spas engineers its swim spas to be used year-round. The water temperature can be controlled, a lower temperature for exercising and up to 99 degrees for relaxing and therapy benefits. Whether it's snowing or 90 degrees, the water is always perfect.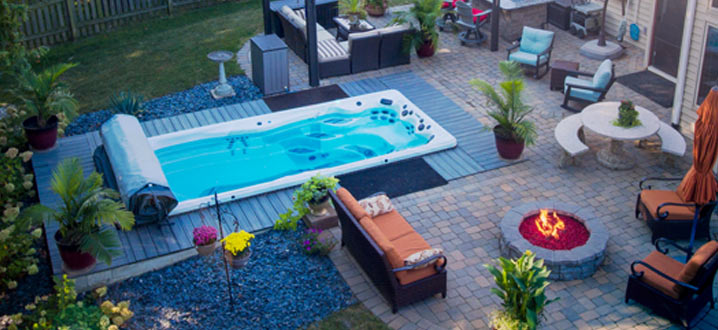 Cost
Pool: A traditional in-ground pool can have a price tag of up to $100,000 but the cost grows over the life of the pool. Maintenance, chemicals, water and utility bills add up. If you choose to go with a vinyl liner pool, you must also factor in the cost of replacing the liner every five to seven years.
H2X Fitness Swim Spa: A swim spa has a lower price up front and costs less during its lifetime. Energy-efficient construction and foam insulation translate to lower utility bills.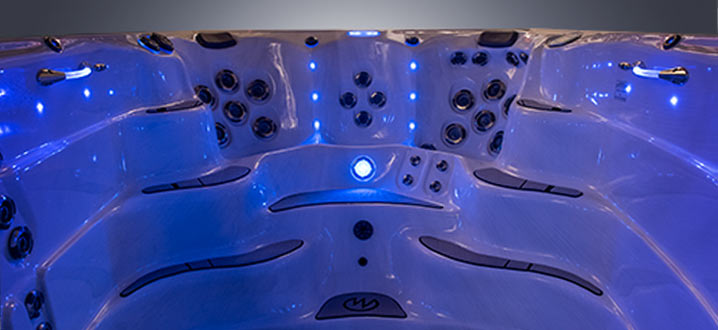 Versatility
Pool: Adding an in-ground spa to your backyard pool design is not included inthe price of the pool, and it can be a costly upgrade. Most in-ground hot tubs do not feature the variety and number of jets of a swim spa.
H2X Fitness Swim Spa: Using VIP Technology, an H2X Fitness Swim Spa delivers an adjustable water current so that you can swim in place. But a swim spa is more than a place for working on your freestyle. The natural resistance and buoyancy of water makes it a natural place to aqua walk or jog, exercise, strengthen and stretch. Swim spa users benefit from reduced impact on joints and improved mobility. Master Spas includes its H2Xercise Fitness System, which comes with resistance bands and rowing bars, as well as a complete guide to aquatic exercise.
In addition, swim spas feature therapy seating and custom temperature controls so that you can realize the benefits of a hot tub without the added cost.