Spending time with family is important. In fact, most Americans say that family time is more important to Americans than other aspects of their life. But it can be challenging to devote the time you want to maintaining those valuable relationships. More and more families are on the go — busy schedules filled with work commitments, school, extracurricular activities, and other responsibilities.
But it's not always about the amount of time you spend with family but the quality of the time you make for each other.
A backyard swimming pool is often seen as a way to encourage quality family time. Family pools provide a fun and engaging environment that encourages various activities and bonding opportunities.
If you're looking to invest in a pool but lack the space for a traditional in-ground option, a family swim spa may be a better alternative. Not only is it space-conscious and versatile, it also offers space for swimming, water exercise, relaxation, and entertainment.
There are several factors to consider when choosing the best swim spa for your family. From the size and features to operation costs, you want to choose a pool alternative that is a wise investment for your family.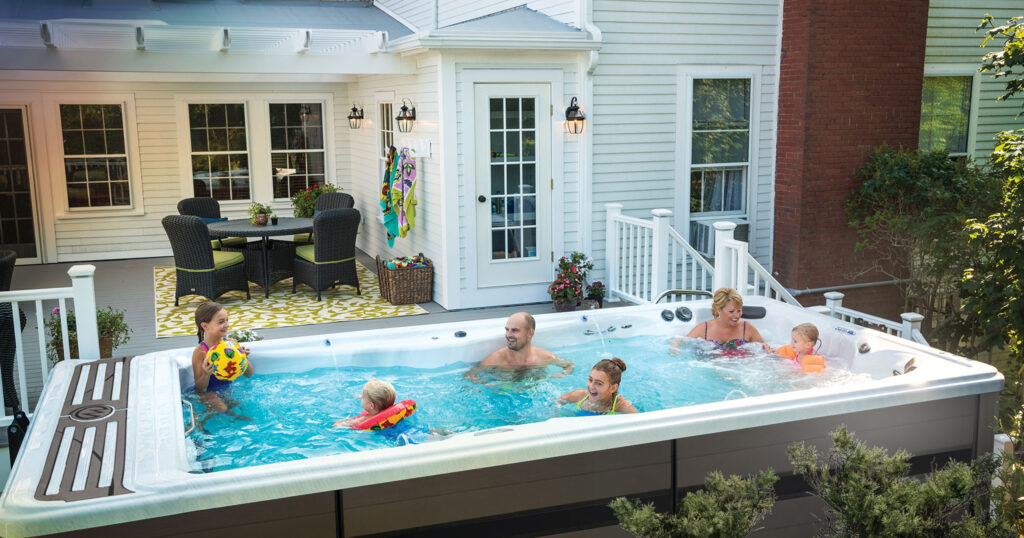 Why swim spas are great for families
Combining the fun of a swimming pool with the therapy of a hot tub, a swim spa offers numerous benefits for families. Whether you're looking to bond with your loved ones, promote a healthier lifestyle, or create a backyard oasis, a Master Spas swim spa has got you covered.
Year-round recreation
One of the primary advantages of a swim spa is the ability to enjoy it year-round. Unlike traditional swimming pools that have a short season for use, swim spas are equipped with temperature control features, allowing you to swim or soak regardless of the season. This means you can hop in with the family, whether it's in the middle of summer or over the winter holidays.
H2X Fitness Swim Spas by Master Spas are also made with full foam insulation. The insulation helps the swim spa maintain the water temperature, as well as protect the components — even during the colder months.
Versatility for all ages
An in-ground swimming pool can offer a way to cool off during the summer, whether you want to splash around or relax on a float. However, most pools are not designed for lap swimming. And a built-in spa can add $20,000 to the cost of building an in-ground pool.
An H2X swim spa is designed for people to enjoy a range of water activities, including stationary swimming, aquatic exercise, relaxation, and hydrotherapy.
For families, it can be a safe and enjoyable environment for young children to be introduced to the water and even learn to swim while under parental supervision. Older kids can practice swimming strokes or engage in water sports, promoting physical activity and skill development. Meanwhile, adults can relax in the hot tub section to relieve stress and sore muscles.
Health and wellness benefits
Swim spas offer a myriad of health and wellness benefits, making them a great choice for families that want to incorporate fitness and relaxation into their regular routine.
H2X Trainer and Challenger swim spas have a swim system, which creates a continuous current of water. This current allows you to swim in place, aqua jog, or water walk. You can adjust the speed of the water current based on your swimming level or what workout you have planned for the day.
The swim spas also come with rowing bars, resistance tubing, and an exercise book. The equipment and water exercise programs can help you enjoy an effective but low-impact workout. The buoyancy of water reduces stress on joints, which is particularly beneficial if you struggle with joint pain or have mobility issues. In addition, it allows for gentle stretching and improved flexibility.
The hydrotherapy jets in the hot tub section offer therapeutic benefits. There are massage jets that can help relieve tension and ease aches. And when you take advantage of the hydrotherapy features, it promotes relaxation and helps to ease stress and anxiety.
Quality family time
In today's fast-paced world, finding quality family time can be a challenge. An H2X Fitness Swim Spa provides an opportunity to connect with your loved ones in a relaxed and fun setting. Whether it's playing waterproof games, chatting in the hot tub, or simply floating together, a swim spa fosters meaningful family bonding that's hard to replicate elsewhere.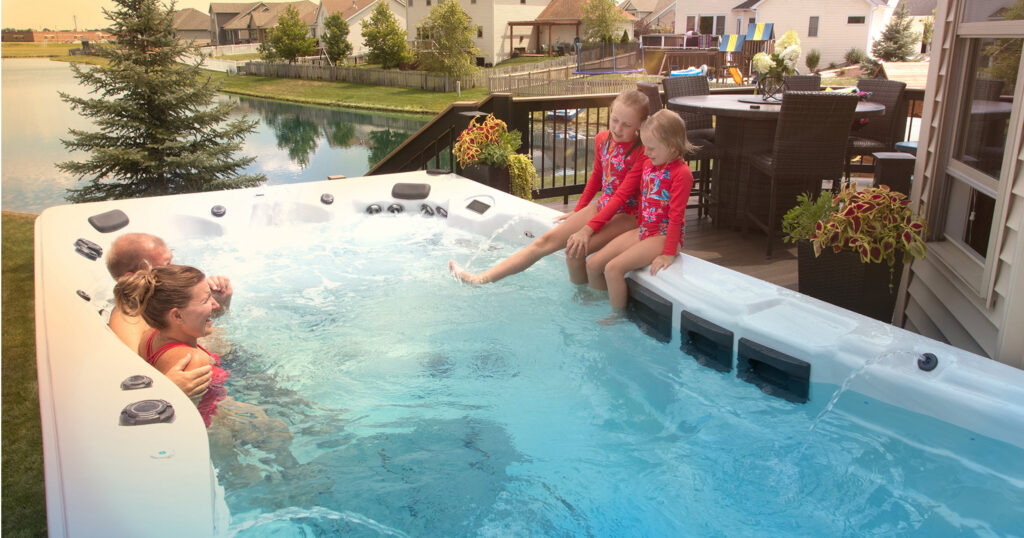 Choosing the perfect family swim spa
Purchasing the best family swim spa requires some thought and research. Think about the size, features, maintenance, price, and customer reviews before selecting a model that best suits your needs. With the right swim spa, you and your family can enjoy the benefits of a pool without the hassle of a traditional in-ground option.
Define your space
Consider the available space in your backyard or home for the swim spa installation. The best location will be easily accessible from your home, making it convenient to use year-round. Consider its proximity to your back door, ensuring that you don't have to navigate a long or complicated path to reach it. A location that's close to the house and near other features, such as your patio or deck, allows you to easily supervise children in the spa.
Privacy is another factor to consider when looking at your backyard space and choosing a location for a swim spa. Fencing, landscaping, or strategic positioning can help create a more private atmosphere.
You can schedule a site evaluation with your local Master Spas retailer. The staff will help you assess the area and help you account for not just the swim spa but plan for the addition of steps and a cover. You'll also want to take into account other factors such as electrical and necessary access pathways.
Choose the right size
Swim spas come in various sizes, so you want to choose a model that best suits your family's needs. Think about how many family members will be using it at once, as well as your preferred activities. Larger swim spas provide more room for swimming and playing, while smaller ones are more space-efficient.
H2X swim spas come in a range of dimensions, from an 11-foot Therapool model to the 19-foot Challenger dual-zone spa.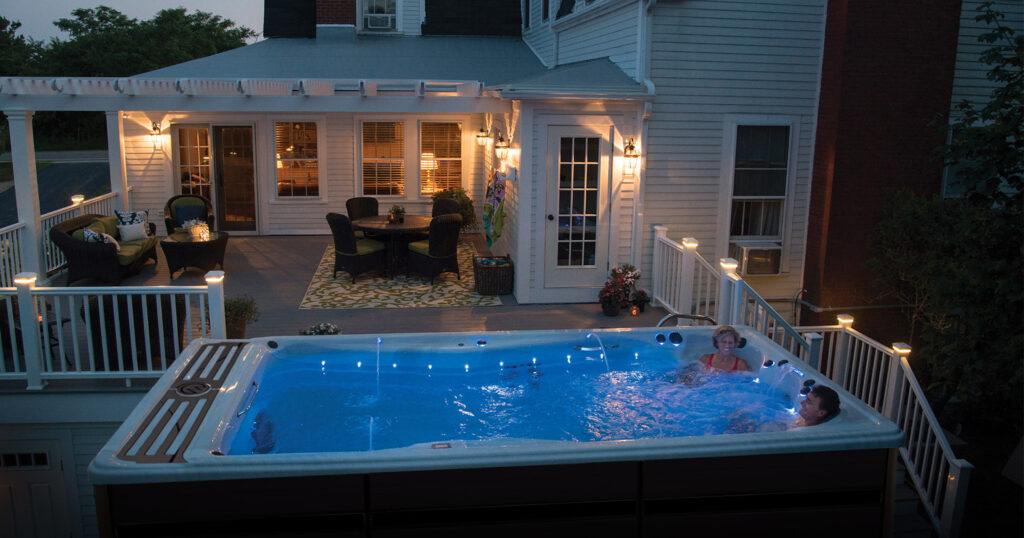 Features
Swim spas come with a variety of features, such as swim jets, hydrotherapy jets, and LED lights. There are also dual-zone swim spas, which have two distinct bodies of water and temperature settings.
You can also add premium features such as a sound system or 24-hour circulation pump. The nonslip comfort floor system, offered by Master Spas for H2X swim spas, provides a unique combination of grip and cushion. The flooring system adds another level of safety to the swim spa, as well as makes it more comfortable to exercise in the spa — without the need for water shoes.
When buying the best family swim spa, consider how you will use the swim spa and what features are important to you.
Maintenance
Like any pool, swim spas require regular maintenance. Make sure the model you choose has easy-to-clean surfaces and a filtration system that is easy to maintain.
H2X swim spas feature a mineral filtration system that helps purify the water with fewer chemicals compared to other models. Minerals like copper and zinc help remove contaminants in the water, as well as stabilize the pH. Specially designed filters trap debris, which can affect the water chemistry.
Master Spas has a library of videos to support you throughout swim spa ownership, guiding you through rinsing filters and adding chemicals to the water.
Insulation and efficiency
Look for a swim spa with excellent insulation to help conserve energy and reduce heating costs. Well-insulated swim spas can maintain water temperature more efficiently, making them more eco-friendly and cost-effective in the long run.
H2X swim spas are made with full foam insulation, which help reduce the operating costs compared to other brands. In addition, a high-density foam cover helps lock in heat and keep out the elements when the swim spa is not in use. 
How to buy a swim spa
Do you want to be able to swim, exercise, and relax at home? Having an H2X Fitness Swim Spa by Master Spas allows you to swim on your schedule while adding a fun factor to your backyard. You can click here to find out more about the benefits of hydrotherapy and relaxing in a swim spa. Or, contact your local Master Spas retailer to learn more about swim spa ownership. Wondering how much a swim spa costs? You can request a quote here.