For many buyers, the dream isn't just to find a home with an open floor plan, four bedrooms, and a master suite. Many homebuyers are prioritizing their outdoor space in the hunt to find their next home. Whether it's a custom deck or a patio, people want a place to sit outside and enjoy a cup of coffee, entertain guests, relax and unwind, watch their kids and pets play.
According to data, 87 percent of buyers wanted exterior lighting and 82 percent wanted a backyard patio. A 2022 Zillow report showed the outdoor space was highlighted 22 percent more often compared to the previous year.
"Many homeowners will be looking for ways to revamp this space as an extension of their home, whether it's to exercise, entertain or gain some privacy," the report states.
While you might think you need a large backyard to create this outdoor living space, a small property can offer incredible opportunities for exercise, relaxation, and entertainment.
For one Vancouver homeowner, their small backyard became a home gym, spa, and entertainment venue. Working with landscape designer Inside Out Design Build, their backyard project included a multi-level deck, al fresco dining area, and lounge seating.
The centerpiece of the backyard, though, was an H2X Fitness Swim Spa by Master Spas. The swim spa provides the homeowners with a year-round retreat for swimming, water exercise, entertainment, and stress relief.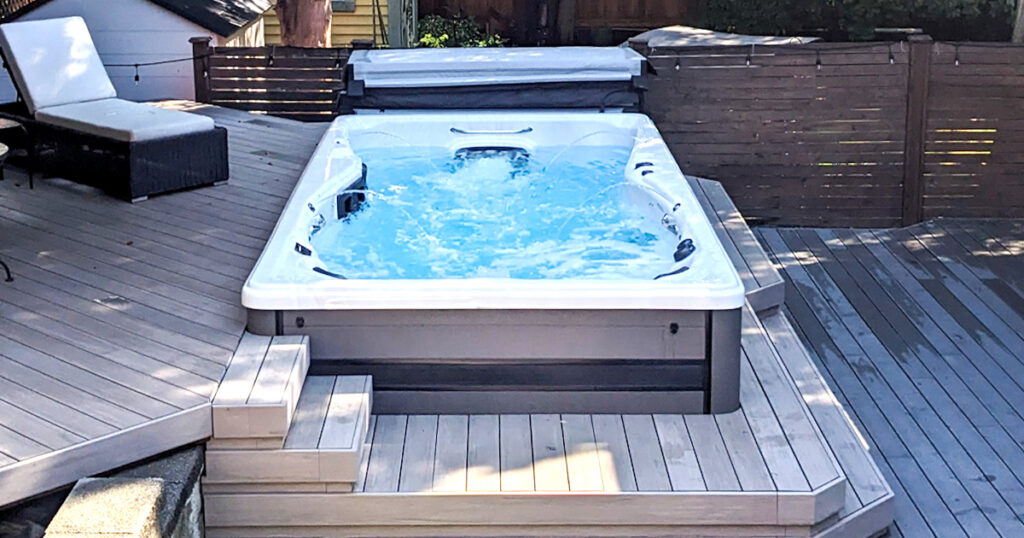 Swim spa tour: Backyard turned oasis
Owning a small backyard doesn't mean you have to sacrifice style, comfort, or functionality. In fact, with the right design approach, a small outdoor space can become a charming and inviting oasis that you'll love spending time in.
This Vancouver backyard features functional zones for outdoor dining, relaxation, and entertainment. And the design requires minimal maintenance on the part of the homeowners so they can spend more time enjoying their swim spa oasis.
Dining al fresco
The Vancouver home features a modern design, with clean lines and a neutral color palette. There are elements of wood and concrete but also large windows trimmed in black, which draw in plenty of natural light.
The backyard's outdoor dining set complements the architecture of the home. The table is made of stone and though it is a black hue, the material helps to reflect natural light. Black wicker-style chairs are weather-resistant and can hold up to the elements in British Columbia.
Multi-level deck
Ideal for small backyards, multi-level decks can help you make efficient use of your outdoor space. The design and different levels can help you accommodate various activities and zones within a limited footprint.
The multi-level deck in this space helps create separate areas for entertaining and relaxation while creating the look of an in-ground swim spa. This particular deck design also helps to facilitate an easy entry and exit into the H2X swim spa.
The design of the multi-level deck, too, improves the flow of traffic and activities. You have a clear pathway from the outdoor dining area to the swim spa to the lounge area. It makes it easier for guests to move around and allows the space to feel less crowded, which is crucial when you have a small backyard.
Swim spa installation
The dream of having a personal swimming pool in the backyard has long been a symbol of luxury and leisure. However, traditional in-ground pools require a significant amount of yard space, often leaving little room for other outdoor activities.
The homeowners of this modern Vancouver home needed to be conscious of the available space. And, in a climate where the average temperature is rarely above 80 degrees, an in-ground pool would not be worth the investment.
H2X swim spas, on the other hand, can be used year-round and installed in most any outdoor space.
The swim spa features a generous swim area with adjustable water current for swimming in place and water exercise. This space, though, can double as a place to relax, stretching out on a pool float or playing a game with the kids. The swim spa also comes with hot tub seating and built-in hydrotherapy jets, creating a spa-like experience.
The water temperature can be adjusted to suit any season or preference, allowing you to swim or relax in warm water, even on chilly winter days.
Outdoor lounge area
Lounge areas not only enhance the comfort and look of your outdoor space but can increase your quality of life. The space will invite you to spend more time outdoors, whether you want to relax in the beauty of nature or invite friends over. In addition, it's a place to disconnect from technology, relax, and rejuvenate in a tranquil outdoor setting.
A lounge area should be a key feature of any backyard makeover, and the landscape designers of this Vancouver backyard found a creative way to incorporate one into the small space.
The multi-level deck was extended beyond the backyard retaining wall, adding space for a chaise lounge and bistro table. The chaise offers a cozy spot to land at the end of the day or rest up after a swim in the swim spa. The bistro table encourages you to take your breakfast outside or even your laptop, working with the soothing sound of the swim spa in the background.
Privacy fence
Imagine sharing a meal or lounging in your swim spa without feeling like you're on display. A privacy fence allows you to relax, sunbathe, read, or meditate without the distractions of passersby or neighbors' prying eyes.
But your privacy fence should match your overall style and space.
Complementing the modern architecture of the home, this backyard features a horizontal privacy fence. The horizontal lines of the fence panels complement the angular features and wood siding of the home, creating a cohesive look on the property.
In addition, the lines of this fence draw the eye along the length of the property, creating a sense of spaciousness and flow. This design technique is especially advantageous for homeowners with smaller yards as it makes the space look more extensive.
Lighting matters
Strategic lighting can transform your small backyard into a magical space after dark. Homeowners can use lanterns, and path lighting to create ambiance and extend the usability of your outdoor area into the evening hours.
In this backyard, simple string lights along the fence line help add a glow without taking up valuable outdoor space. The soft, diffused light creates a cozy atmosphere, which is perfect for when the homeowners throw an outdoor party or just want to enjoy an evening soak in the swim spa.
In addition, the swim spa has its own lighting to add to the cozy vibe. The LED lighting creates a soft glow along the water line, and the homeowners can select from a variety of hues based on their preferences.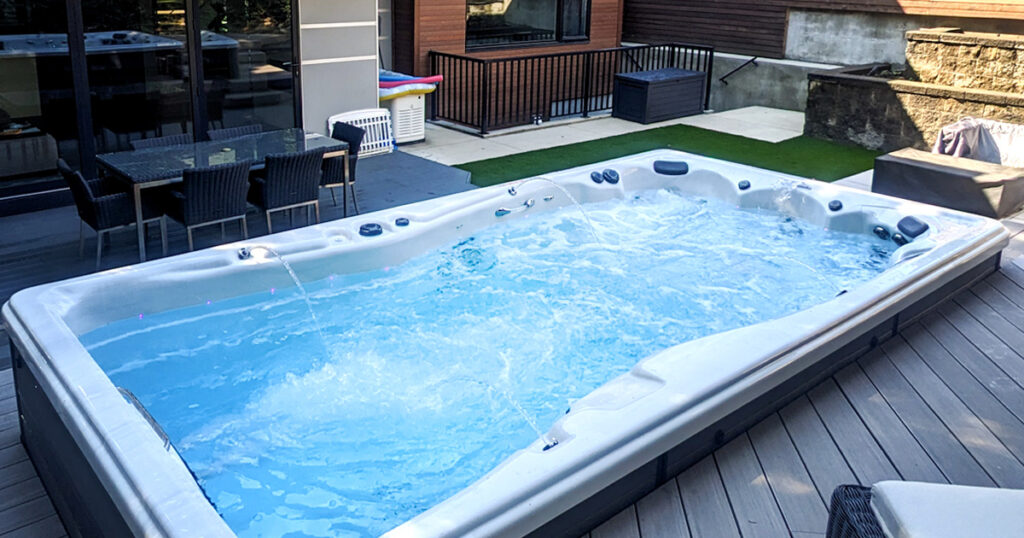 How to buy a swim spa
Do you want to be able to swim, exercise, and relax at home? Having an H2X Fitness Swim Spa by Master Spas allows you to swim on your schedule while adding a fun factor to your backyard. You can click here to find out more about the benefits of hydrotherapy and relaxing in a swim spa. Or, contact your local Master Spas retailer to learn more about swim spa ownership. Wondering how much a swim spa costs? You can request a quote here.