When it comes to relaxation and fitness, swim spas have become increasingly popular in recent years. These versatile pools offer the benefits of both a swimming pool and a hot tub, providing the perfect setting for exercise, therapy, and relaxation. Dual temperature swim spas, though, take this concept to the next level by offering two distinct temperature zones within a single unit.
Dual temperature swim spas have two unique bodies of water, often separated by an acrylic divider. Each body of water has its own control panel and temperature settings so that you can keep one side heated to hot tub temperature. Relax and unwind in the soothing warm water as you dial in the pressure of the hydrotherapy jets. The larger swim area can be kept at a cooler temperature that's better suited for swimming, water exercise, and recreation.
But you might be wondering if a pool-spa combo is ideal for your backyard. A dual-zone swim spa is an excellent way to enhance your outdoor living space, whether you are doing a complete backyard makeover or are considering replacing an existing spa.
H2X Fitness Swim Spas by Master Spas offers three options for dual-temperature swim spa models, allowing you to choose the best swim system that matches your needs, lifestyle, and backyard.
What are dual temperature swim spas?
A dual temperature swim spa is a swim spa that also has a separate hot tub, allowing you to enjoy the best of a pool and a hot tub. And while swim spas have adjustable water temperature and hot tub massage jets, a dual zone swim spa allows you to seamlessly move from the warm waters of the hot tub to the cooler water of the swim area.
The "hot side" of a dual zone model is smaller but equipped with several contoured seats with massage jets. In H2X models, the seats have different jet patterns, so you can hit just the right spot. Adjusting the combination of air and water moving through the jet, you can customize the massage experience.
This side of the swim spa is typically heated to hot tub temperatures, which can be anywhere from 100 degrees Fahrenheit to 104 degrees Fahrenheit. The hot zone is perfect for relaxing, soaking, and unwinding after a long day. The warm water helps soothe muscles, relieve stress, and promote relaxation.
On the other side, swim spa owners typically keep the water at a cooler temperature. For a pool-like experience you can set the water between 82 degrees and 84 degrees. If you are using the swim spa for recreation or aquatic therapy, you might prefer a water temperature between 88 degrees and 92 degrees. This cooler zone is perfect for getting in a water workout, swimming against a current, or even stretching.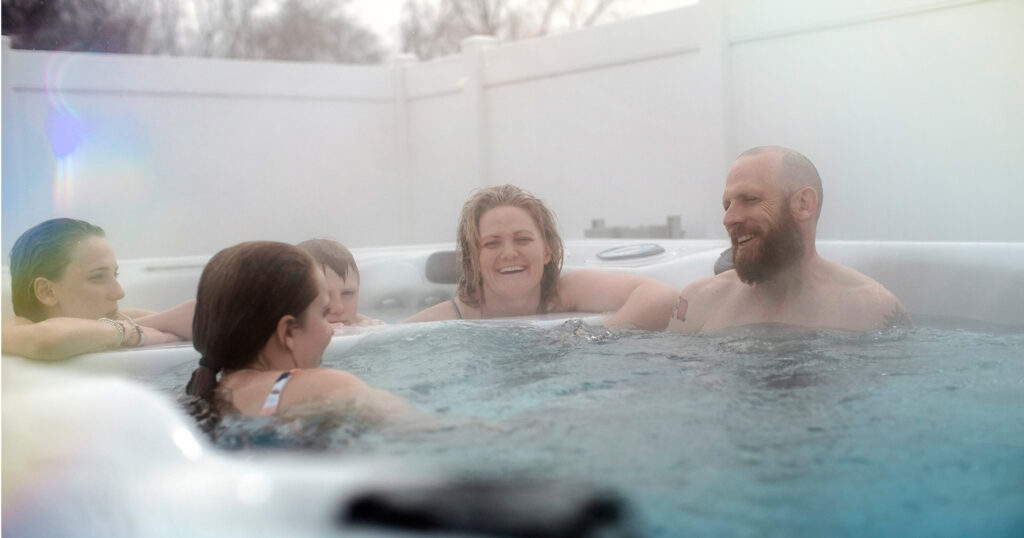 Benefits of dual zone swim spas
The unique combination of a hot tub and swimming pool within a single unit provides unparalleled versatility, allowing users to seamlessly switch between rejuvenation and exercise.
Whether you want the space to swim or exercise at home or seek a place for relaxation and rejuvenation, a dual temperature swim spa adds balance and convenience to your backyard oasis.
Versatile use
Is a dual temperature swim spa worth it? For many, the answer is absolutely. A dual zone model offers incredible versatility. You don't have to choose between a pool or a hot tub nor do you have to invest in and plan for two separate products. With this pool-spa combo, you can use one side of the spa as a hot tub to relax and rest tired muscles, while using the other side to swim or engage in aquatic exercises to maintain a healthy and active lifestyle.
It's also a fun option for families. Mom and Dad can hang out in the hot tub as the kids play in the swim area. Or, older teens can take advantage of the hot tub, as the parents get in a quick swim or aqua jogging workout.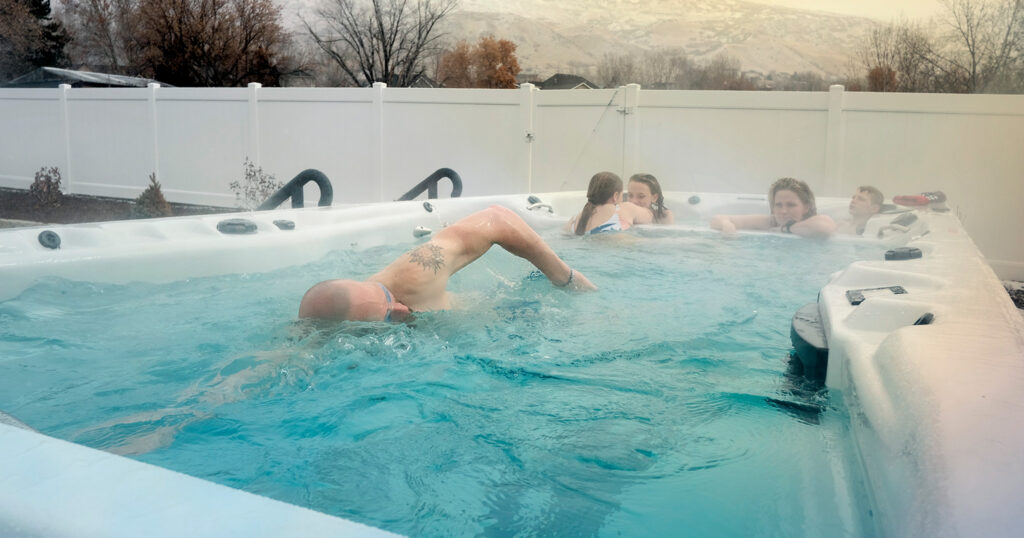 Health benefits
It can be hard to find time to prioritize our health throughout the day. Between work, commuting, and family or volunteer obligations, you can feel like it's impossible to work out the way you want to. Your hourlong swim turns into a quick 1,600 meters. Or, you are finding yourself ducking out of yoga before shavasana because you have a meeting. It's like you don't get the full experience. And, if you get in the workout, there isn't time for stretching or relaxing.
A dual temperature swim spa allows you to enjoy the physical benefits of swimming and water exercise with the mental well-being from a hot tub.
With two distinct areas, you can use the swim side for swimming in place, aqua jogging, and other cardiovascular exercises. Skipping the commute and your locker routine, you can spend more time in the water and less time on the logistics of working out. Plus, you don't have to worry about the pool or gym schedule. You can work out on your time.
And by hopping over the divider, you can recover from your workout session. The warm water in the hot tub side promotes relaxation, helps to relieve muscle tension, and aids in reducing stress and anxiety. It can also provide therapeutic benefits for those suffering from arthritis, chronic pain, or injury recovery.
But one of the benefits of using a hot tub is that it can support your overall mental well-being. The warm water and soothing jets help relax tense muscles, and the overall sensory experience can lower stress levels. Soaking in a spa also stimulates the release of endorphins, often referred to as "feel-good" hormones.
Space efficiency
Unlike having separate hot tubs and swimming pools, which can take up significant space in your backyard, a dual temperature swim spa allows you to enjoy both experiences within a single unit. This makes it an ideal choice for those with smaller outdoor spaces or limited budgets.
The dimensions of the H2X dual-zone models are 8 feet wide and 19 feet long. The standard size swimming pool is 16 feet by 32 feet, which is nearly double the size of a pool-spa combo. The space-saving design allows you to incorporate other backyard amenities, such as an outdoor kitchen or custom fire pit.
Year-round use
Regardless of the season, your swim spa allows you to maintain a consistent fitness routine. You can swim against the current, perform water exercises, or engage in low-impact workouts that support your fitness goals throughout the year. More than that, you can take advantage of the muscle relaxation and mental rejuvenation of a hot tub.
Backyard pools with built-in spas typically have a season. For many, it can be from Memorial day to Labor Day. If the in-ground pool isn't heated, the season could be shorter in northern regions.
H2X swim spas are made with full foam insulation, which helps maintain the water temperature and protect the spa components — even during the harshest of winters. A built-in heater keeps the water at your preferred temperature. We won't fault you if you decide to bump up the water temperature on the "cool" side a few degrees when you head out for that December swim.
In addition, H2X swim spas are constructed with durable materials that can endure both cold and hot climates, ensuring their longevity and reliability year-round. A foam cover, made with marine-grade vinyl, helps lock in the heat and keep out the elements (like the snow).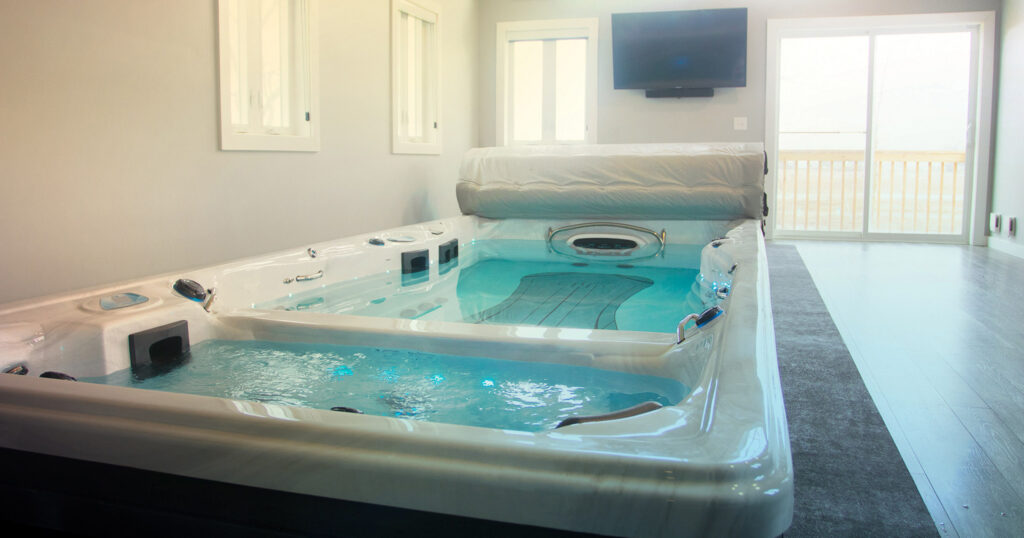 Choosing the best pool spa combo
There are three dual temperature models in the lineup from H2X Fitness Swim Spas by Master Spas. While each option has a separate swim area and dedicated hot tub, each has its own advantages.
H2X Challenger 19D
The Challenger series is designed to provide a superior swim experience for athletes who want to be able to train in their own backyard. It's also great for people who want to be able to work on their swim technique and pace. The airless jet system delivers a smooth, wide current of water for stationary swimming. With three pumps and a variable speed system, you can swim as fast as 1:20 per 100 meters.
But you don't have to be a swimmer or triathlete to benefit from the H2X Challenger 19D. The current can be used for aqua jogging, water walking, or other cardiovascular exercises. Many owners appreciate the ability to tailor the pace, as the swims system has settings from zero to 25.
H2X Trainer 19D
The Trainer 15D is the world's best selling swim spa, and this dual zone spa builds on that model by adding the built-in hot tub. This swim spa has four swim jets, which have multiple speed settings for recreational swimming and exercise.
This model has a water depth of about 51 inches, which maximizes the benefits of water's natural properties. When you're in water, your body experiences buoyant force that counteracts the force of gravity. This means you effectively weigh less in water than you do on land. The reduced impact on your joints and bones makes water exercises low-impact, making them an excellent choice for people with joint problems, arthritis, or injuries.
In addition, the buoyancy of water supports your body, reducing the strain on your muscles. This can be particularly beneficial for individuals recovering from injuries or dealing with muscle soreness.
This full-size hydrotherapy hot tub has 31 jets and ergonomic seating. You can use the hot tub to hit the refresh button on your mental well-being. The jets can help relieve tensions, aches, and stresses of the day. Another hydrotherapy feature is the Xtreme Therapy Cove, which has a unique pattern of jets that target your lower body.
H2X Trainer 19
Not every swim spa owner wants the added depth of the other dual temperature models. And that's where the Trainer 19 comes in.
This pool-spa combo has the same features as the H2X Trainer 19D but in a lower profile, which some owners appreciate. The standard depth can also be more comfortable for entertaining and relaxing with friends.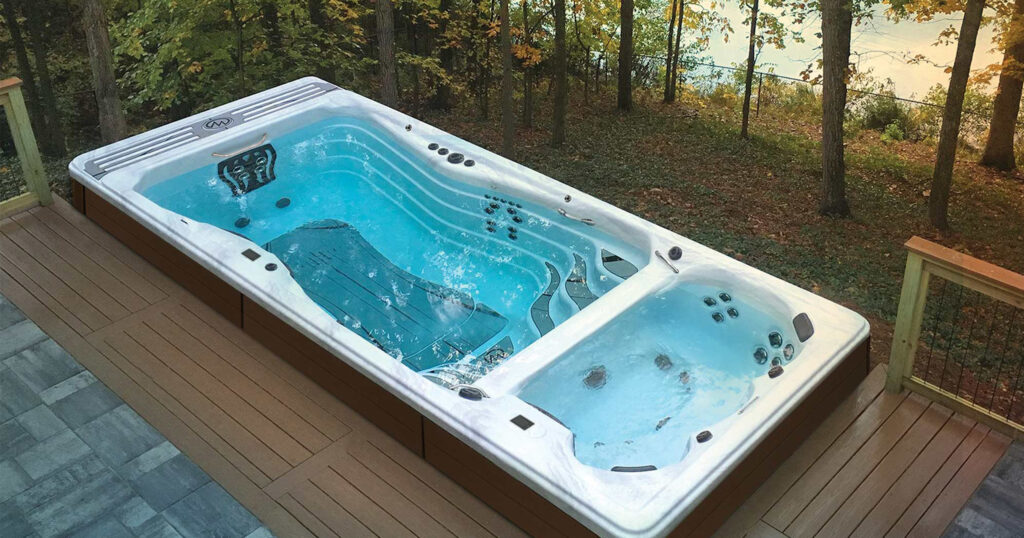 How to buy a swim spa
Do you want to be able to swim, exercise, and relax at home? Having an H2X Fitness Swim Spa by Master Spas allows you to swim on your schedule while adding a fun factor to your backyard. You can click here to find out more about the benefits of hydrotherapy and relaxing in a swim spa. Or, contact your local Master Spas retailer to learn more about swim spa ownership. Wondering how much a swim spa costs? You can request a quote here.