Offering the benefits of both a swimming pool and a hot tub, swim spas are the perfect way to enhance your outdoor living space. You can go for a relaxing swim, take advantage of the massage jets, or just stretch out on your favorite float.
But just as swim spas are a versatile option for water exercise and recreation, swim spa owners have a variety of installation options. You can install a swim spa on a concrete pad, in an underground vault or, with the right preparation, a deck.
Yes, you read that correctly — you can put a swim spa on a deck.
Installing an H2X Fitness Swim Spa by Master Spas on a deck can be a practical yet stunning option. The location allows you to have convenient access to fitness, recreation, and relaxation. It's all just steps from your patio doors. In addition, it can highlight the design of your new year-round oasis.
However, there are some considerations to take into account as you plan for the installation of your swim spa. The preparation will help ensure that you can enjoy the benefits of aquatic exercise and relaxation right at your doorstep.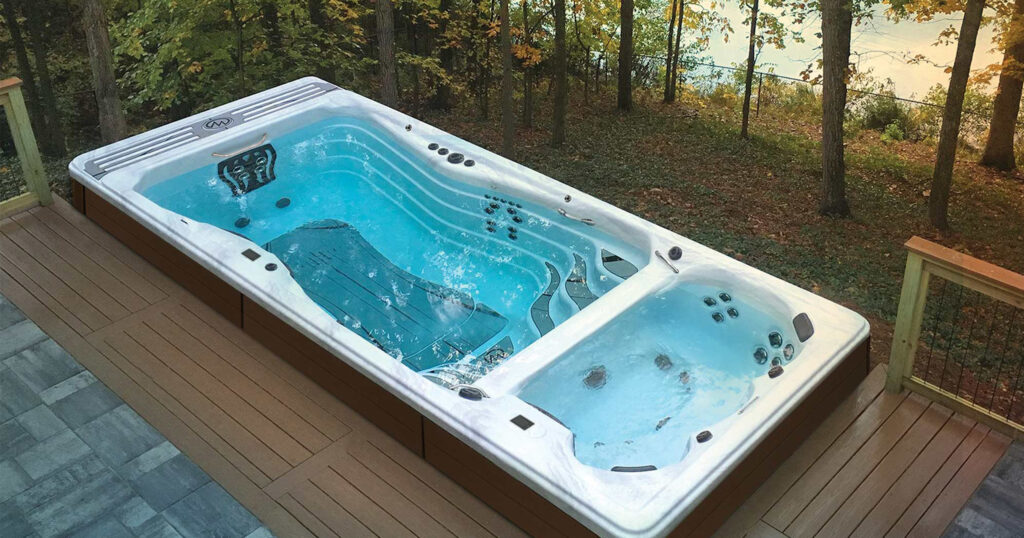 Can you put a swim spa on a deck?
Can you picture it? You walk out of your patio doors and begin your swim in a matter of minutes. Or maybe you are soaking in the hot tub seats while the sun goes down. Incorporating an H2X Fitness Swim Spa onto your deck allows you to enjoy your backyard in a new way.
But before you pull back the cover and step into the water, you need to prepare your deck for the swim spa.
Assess deck strength
A swim spa can weigh up to 24,000 pounds when it's filled with water and family members are swimming in the water. It's critical that no matter where you install the pool alternative, that the foundations and support the spa.
If you are considering placing your swim spa on an existing deck, you should contact a structural engineer or a professional deck builder to assess the strength of your deck. Reinforcements may be necessary, such as additional support beams or footings.
Building a new deck? Be sure to share the model specifications of your swim spa with the contractor. He can be sure to add deeper footings or cleverly design the space o that you can feel confident in the deck's strength.
Plan for access and maintenance
You'll need to ensure there's ample space around the swim spa for maintenance and servicing. This includes access to the equipment compartment, which typically houses pumps, filters, and heaters. Master Spas recommends that homeowners have 3 feet of access on all sides in the event that you need service. However, depending on the deck design for your swim spa, you can also consider a removable section of your deck or a trapdoor for easy access.
In addition, you want to be sure that you have access to a garden hose or water spigot. You will want to be able to fill the swim spa once it arrives. In addition, swim spa owners should expect to add water periodically as splashing and evaporation can lower the water levels.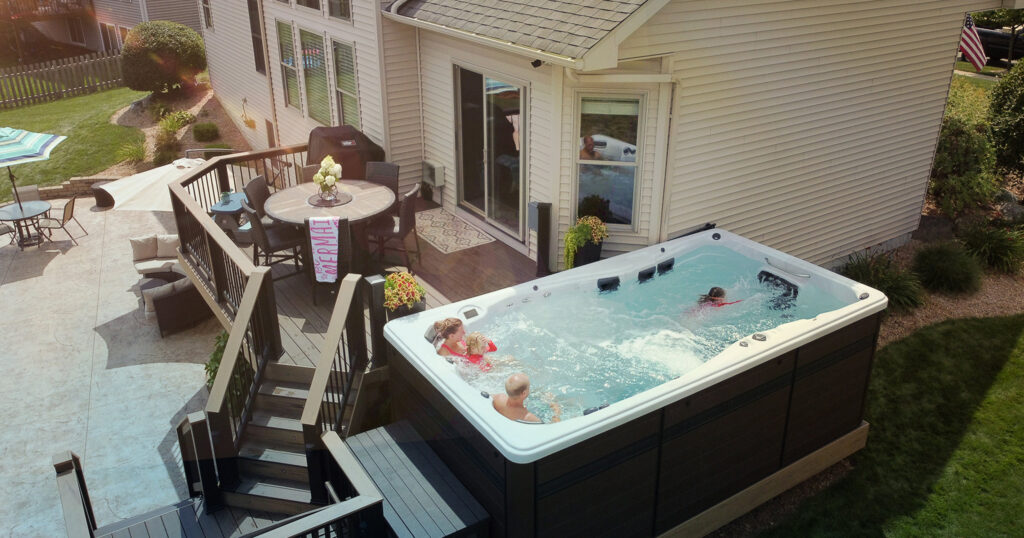 Ease of entry and exit
Many swim spas come with a set of steps for getting in and out of the water. However, when you install your swim spa on a deck or adjacent to the structure, you might not need steps. If the swim spa is level with the deck floor, you will climb down into the water.
A more functional — and popular — design is a semi-recessed configuration, where the spa is cleverly positioned approximately 18 to 24 inches above the deck floor. This design not only enhances the aesthetic appeal of your outdoor space but eliminates the need for traditional steps. You can effortlessly step into and out of the water. You can also collaborate with your contractor to build a multi-level deck or design custom steps that seamlessly blend with your outdoor decor, providing an inviting entry to your swim spa.
Prepare the foundation
No matter where you install your swim spa, a stable foundation is a must. Most often this involves pouring a reinforced concrete pad. It's important, too, that the foundation is level and well-drained.
While you want to incorporate your swim spa into the deck design, the pool alternative might not always be on the actual deck. Many times, the spa is installed on a concrete pad that is level with the ground and the deck is built around the spa.
If you have an existing deck, you can work with a landscape contractor to pour a concrete pad and then cut the deck to make room for the spa. Another alternative involves constructing a dedicated platform specifically for your swim spa. Think of it as an extension of your existing deck, positioned conveniently adjacent to it for easy access. Notably, this choice minimizes the impact on your current deck space.
Electrical considerations
A swim spa will require an electrical connection. Most H2X swim spas require a 50-amp system. Dual-temperature swim spa models will need 100-amp service. Hire a licensed electrician and plumber to install the necessary wiring. Ensure that these connections meet local building codes and safety standards.
H2X Challenger models require a specific GFCI breaker, which will come with your spa upon delivery. It's important to clearly communicate with your electrician accordingly.
Spa delivery
Your Master Spas retailer will work with you to coordinate the delivery of your swim spa. Make sure there's a clear path from the street to your deck, as the swim spa can be quite large and heavy.
However, it's important to share the plans for your spa installation design with the retailer. If you have an elevated deck or limited access to the space, a crane may be necessary to lift the swim spa into place.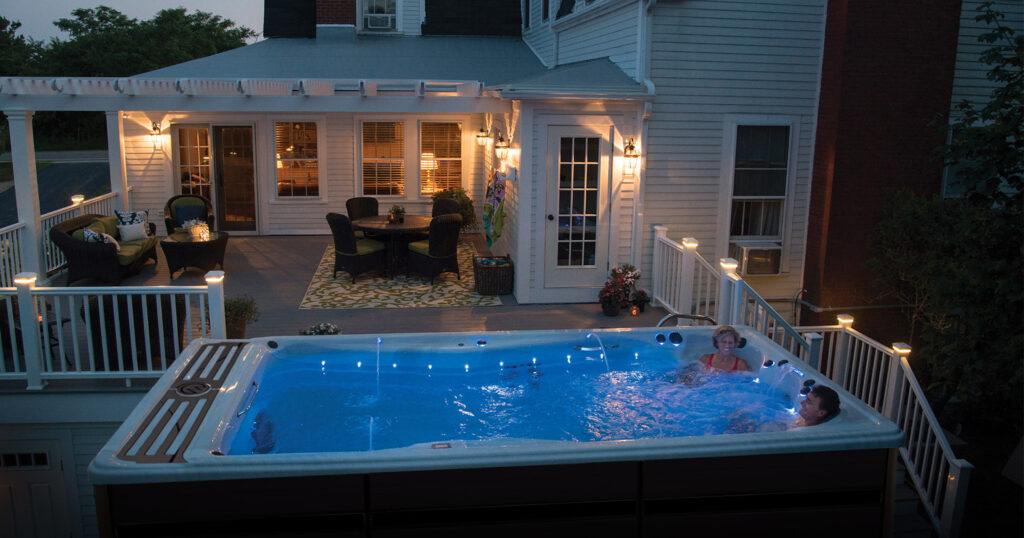 How to buy a swim spa
Do you want to be able to swim, exercise, and relax at home? Having an H2X Fitness Swim Spa by Master Spas allows you to swim on your schedule while adding a fun factor to your backyard. You can click here to find out more about the benefits of hydrotherapy and relaxing in a swim spa. Or, contact your local Master Spas retailer to learn more about swim spa ownership. Wondering how much a swim spa costs? You can request a quote here.