Swim Spa Features
H2X Fitness Swim Spas by Master Spas are built with innovative features that make it easier to enjoy and maintain your backyard pool alternative.
Standard Features:
VIP Technology
We want you to get the most out of your swim spa experience. That's why we designed the Velocity Injector Plate (VIP) Technology for H2X Fitness Swim Spas.
H2X Trainer models feature four air-injected VIP jets that create a smoother flow of water than traditional jetted swim spas. The water offers resistance so that you can enjoy a continuous exercise experience whether you swim, run, or walk.
The unique design of the plate helps to control turbulence and the flow of water. By changing the way the water is released into the swim spa, you will experience a current that's smoother, more efficient, and powerful.
How It Works
The Velocity Injector Cones, along with the water flowing through the jets, help to create negative pressure around the perimeter of the jet face allowing water to be pulled through the front grill, into the main water stream.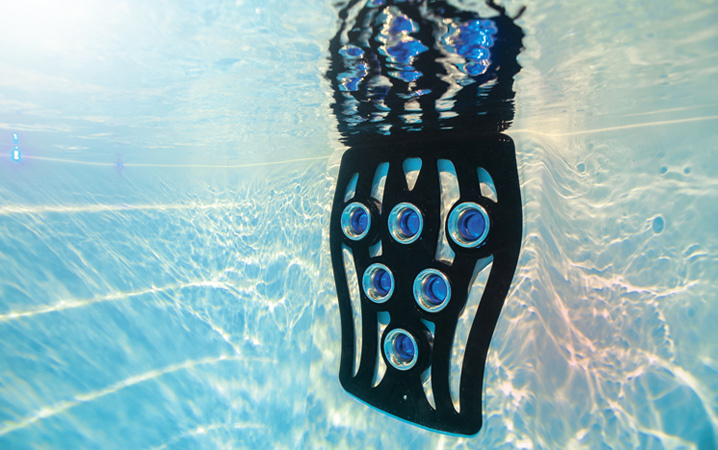 AquaSpeed VSP
Six airless VIP jets create a smooth, wide current of water ideal for swimming and exercise. Enjoy greater visibility while having more control over your swim spa experience. With 25 speed settings, you can turn up the tempo for an interval workout or dial it in for endurance efforts. Available on Challenger Series swim spas.
For international customers, H2X Challenger models feature a seven-speed water current system.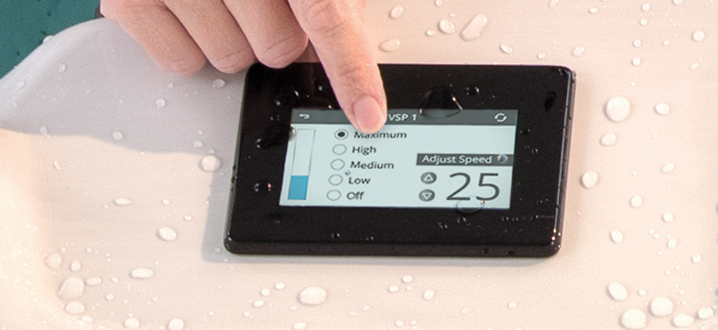 Hydrotherapy
Experience the best of hydrotherapy with adjustable temperature controls and strategically placed jets. H2X Fitness Swim Spas feature contoured therapy seats and the Xtreme Therapy Cove so you can relax and recover. Read More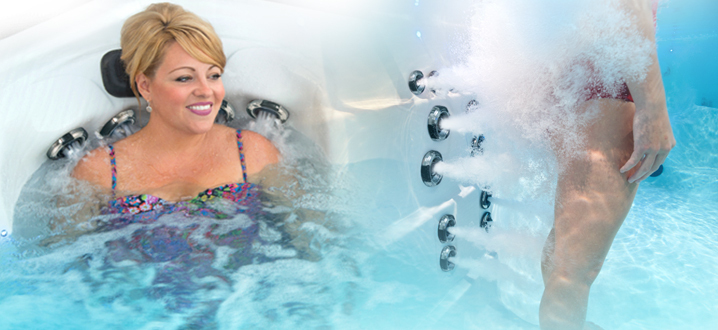 EcoPur Charge Water Purification
You want to spend your time enjoying your swim spa, not worrying about water care. An exclusive filtration system, the EcoPur® Charge Master Core Technology makes maintaining your swim spa's water easier. EcoPur Charge relies on a blend of copper and zinc to create an electro-chemical reaction that eliminates many micro-organisms and removes heavy metals. Using EcoPur® Charge filtration reduces the amount of chemicals needed, saving you money each month and protecting the swim spa's plumbing and equipment. Read More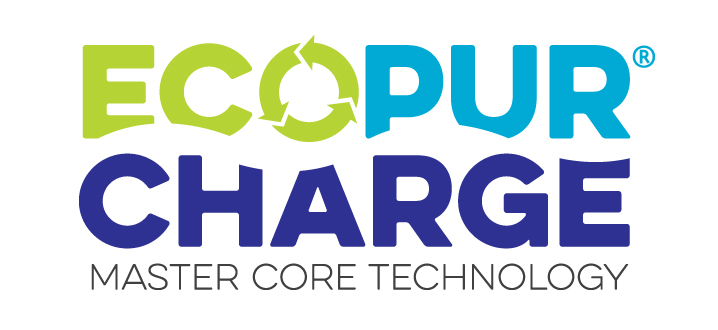 Energy Efficient
Master Spas designed H2X Fitness Swim Spas to be energy efficient so that they can be used year-round, no matter the weather. Using an environmentally friendly foam insulation, H2X Fitness Swim Spas are among the most energy efficient in the industry. The insulation, which is mold and mildew resistant, locks in heat and reduces energy costs. Every swim spa is built to not only meet but to exceed the stringent California Energy Commission efficiency standards.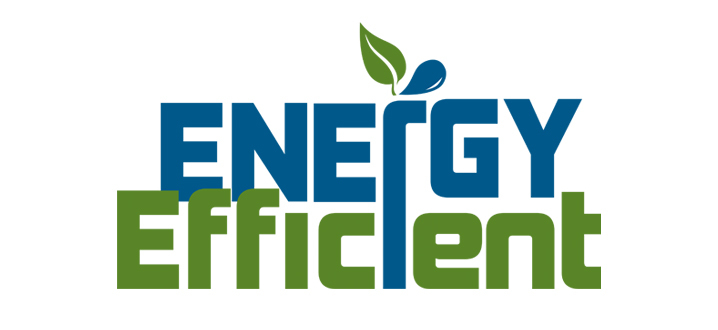 Energy Calculator
By selecting your spa brand and model, you'll easily be able to see an estimate of how much a Master Spas hot tub will cost each month to maintain.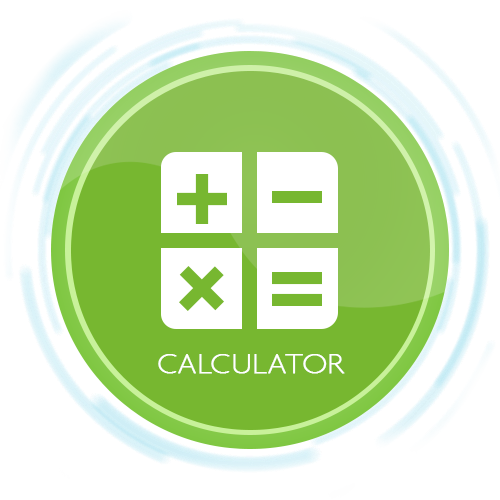 Estimated Monthly Cost
H2Xercise System
Every H2Xercise Fitness Swim Spa comes with an H2Xercise Kit. The kit includes row bars and resistance tubing. Read More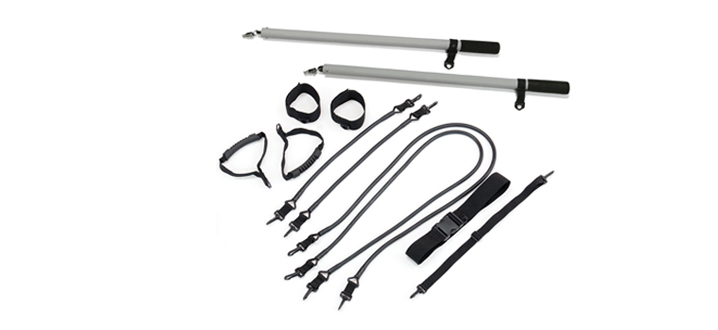 Fusion Air Sound System
The Fusion Air Sound System is an option with any H2X Fitness Swim Spa model. This system includes four interior water-resistant speakers and a subwoofer to maximize the sound quality. The Fusion Air Sound System connects quickly and easily through the Bluetooth of your device allowing you to stream your favorite station or playlist.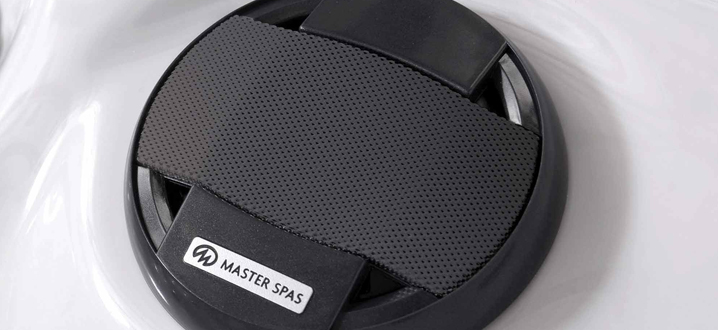 Bluetooth Speaker
Whether you are hanging out with loved ones or want to create a moment of calm, the right playlist can help you set the mood. This sound system has 40W power and a bass boost with up to 10 hours of playtime. It's designed to easily rest on the water features of the spa for superior sound quality.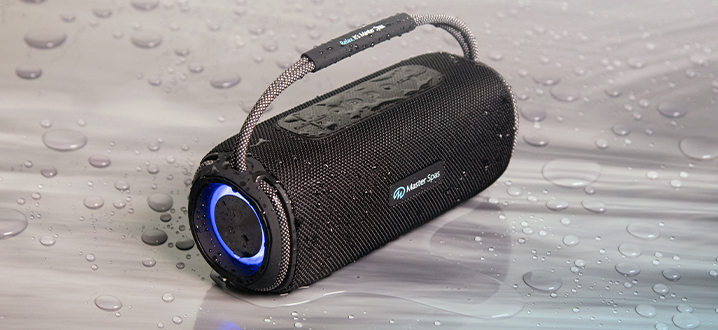 The Mast3rPur Water Management System
The Mast3rPur™ Water Management System is a synergistic blend of three natural water sanitizers. When combined, these elements create a chemical reaction known as Advanced Oxidation Process. The result: Clean, clear, fresh-smelling water. The Mast3rPur™ option comes with the QuietFlo Water Care System, a 24-hour circulation pump. Read More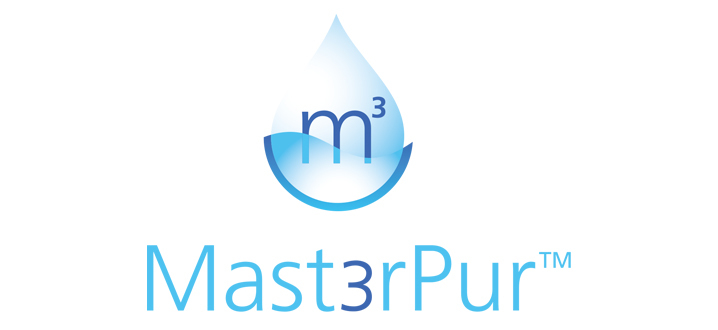 Nonslip, Comfort Floor System **
The Nonslip, Comfort Floor System offers safety and comfort with the unique combination of traction and cushion. The flooring system offers grips for each movement, making exercises easier and more comfortable. Nonslip, Comfort Floor System is applied to each entry and exit step as well as the large floor area.

** Due to continued supply chain issues with the Nonslip, Comfort Floor System, the photos depicted of this feature may not accurately show the look and design of the material available at the time of manufacturing your swim spa order. While we are doing everything we can to secure the original designed material, any differences are cosmetic only.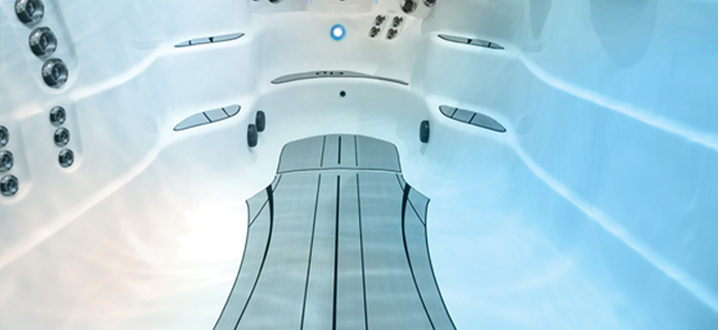 Axis Cover System
The Axis Cover System makes it easier for you to use your swim spa. The unique rolling swim spa cover has a low-profile and can be used by most anyone. Read More